Sri Lanka is the perfect place to explore if you're looking for more than just sun and sand on your holidays. This tropical island set in the Indian Ocean and just a stone's throw from the tip of Southern India, is stunningly beautiful, incredibly diverse and delightfully compact (roughly the same size as Ireland).
Why Sri Lanka?
A world class surf destination, Sri Lanka can offer some serious ticks off your family's bucket list, which, when you're shelling out for flights for the whole family, is a real draw. Lured by the promise of incredible wildlife (with affordable safaris), rich culture (numerous UNESCO world heritage sites) and tropical heat, Sri Lanka does not disappoint. I was longing to show my girls (6 and 9) elephants in the wild and introduce them to Buddha, whilst my surf-junkie husband had been hankering to explore legendary surf breaks on Arugam Bay's East coast for years.
Boasting average temperatures of between 28-32 degrees Celsius, the tropical climate of Sri Lanka is a magnet for those hunting winter sun. But what many find even more appealing is that Sri Lanka is actually an all year round destination. With two distinct monsoon seasons hitting the island from opposing directions, escaping the rain is easy by heading to the opposite coast for perfect beach conditions. For example when the gentler Yala monsoon hits the south-west of Sri Lanka between mid May and September it's dry season in the north east. During October, November and sometimes into December, when the heavier, more unpredictable north east monsoon blows, simply head to the south west part of the island.
Whether you're a family weighing taking your kids for their first adventure into a third world country or you're a hardcore seasoned travelling family, Sri Lanka ticks all the boxes – very kid friendly and safe, but at the same time it pushes the boundaries for those who want a deeper experience. Tropical, adventurous, rich in history, clean (especially for a third world country!), not to mention abundant wildlife, challenging hikes, incredible dives and delicious food. Sri Lanka exceeded every one of our expectations.
Sri Lankans are known for being incredibly embracing, welcoming, and warmhearted and we were blown away by how wonderful the locals were – going out of their way to help us, always chatting and playing with the girls. The Sri Lankan's love children! The island is relatively easy to get around, most people speak English and there are plenty of places to stay for all budgets.
Sri Lanka's turbulent past of interminable civil war and the devastating tsunami of 2004 (which killed 375 people in Arugam Bay alone) have kept visitors at bay, preserving the island against mass tourism. Sri Lanka, now emerging into the spotlight as the gem in the Indian Ocean, is firmly back on the tourist trail and as such, prices are beginning to soar. So, if you've been thinking about visiting Sri Lanka, now is the time to go.
When to visit Sri Lanka?
Jan – March – most of the island is dry during these months and a great time to travel
April – the hottest month of the year, particularly in the cultural triangle with temperatures soaring to 40 degrees.
May -June – Yala monsoon in the South West (short, sharp showers that pass quickly)
July – Sept – Inter monsoon season with occasional showers but generally a great period in which to travel with temperatures around 29 degrees
Oct-Nov – Monsoon in the north east of the island
Dec – a good time to travel, excellent weather in the south east. Monsoon can linger from the north east some years.
Where in Sri Lanka should I go with kids?
The adventurous should head to the North which promises off-the-beaten path pristine beaches, but less infrastructure having only relatively recently opened up since the civil war. A military presence is still felt here but tourism is building slowly and travelers report only jaw dropping accounts of the North being similar to Thailand 30 years ago …..
The center of the island, the cultural triangle, holds the greatest concentration of ancient sites and temples. Kandy, the capital and home to the 'Buddha tooth temple' may be a bustling city, but it's a good starting point for visitors wanting to get their culture fix. From Kandy, it's easy to access iconic sites such as the ancient rock fortress of Sigiriya, the cave temples of Dambulla, or ancient cities of Anuradhapura and Polonnaruwa only a couple of hours north. Kandy is also the perfect half way point to the East Coast.
The south west, blessed with picture postcard palm fringed beaches is packed with luxury resorts and decent surf. The less developed East Coast has, arguably, some of the best waves in Sri Lanka, with laid back Arugam Bay drawing in a mellow crowd. The famously cooler hill country in the center of the south of the island is the perfect place to escape the heat and also a hiker's paradise.
We traveled for just under 4 weeks during August. Preferring to travel slowly, we prioritized wildlife, culture and surf, spending our first two weeks discovering the cultural triangle, going on a safari and exploring the hill country. Our second week we relaxed on the East Coast, surfing and chilling out. Extreme adventures were out of bounds for me with my fresh ACL knee graft on the mend, but we still managed to bag some amazing new experiences.
We spent on average $150 a day (for a family of four), but a large expense for us was hiring private drivers for most long distances driven which cut travel times considerably (most tourists do this in Sri Lanka due to the road conditions). Most trips via private driver run about $100. Taking the bus or train costs peanuts and something I'd be keen to do more of on a longer second trip to Sri Lanka. Our accommodations were a mixed bag of budget to mid-range, such as Aloha Cabanas (running around only $50/night!) with a smattering of luxury like The Spice Trails (for around $150/night). The sweltering East Coast heat coupled with rough seas unsuitable for family swimming led us to occasionally book hotels with pools, which increased our daily accommodation spend from $50 to between $100-150.
6 Outdoor Adventures You Don't Want to Miss in Sri Lanka
1. Climb Pidurangala Rock at dawn
One of the most iconic sites of Sri Lanka, the ancient Lion's Rock fortress at Sigiria is a huge tourist attraction. For a more adventurous and spiritually enhancing experience choose to climb the alternative and neighboring rock, Pidurangala at dawn which guarantees spectacular views of the infamous Lion's Rock but without the crowds.
Setting off in the dark, torches in hand, following roughly painted arrows through the rocks makes climbing up this relative easy hike a great adventure. The final approach, after a climb of 30 minutes, is a scramble between, through and over vast boulders. The last push to the summit is easy for the fit and the nimble, but enough to keep this previously little known secret still off the mass tourist trail. This was an unforgettable experience for us as a family. Don't miss this.
2. Go on a safari
You'd expect to pay a fortune to take your family on a safari, but here in Sri Lanka it is surprisingly affordable. With 22 National Parks and with the highest density of wild elephants in Asia, you've got extremely high odds of seeing these incredible creatures. We took two safaris whilst in Sri Lanka – one to view The Gathering, the world's largest wild elephant congregation which occurs every August at Minneryia and Kaudulla National Park and one in Yala National Park in the hope of spotting the elusive leopard.
We saw plenty of elephants which was a truly thrilling and humbling experience and an absolute highlight of our Sri Lankan visit. Unfortunately the leopards, which have notoriously lower sighting odds, escaped us this time. With safaris being as short as 2-3 hours, it's a perfect introduction for families to serious wildlife. We booked our safari in Yala National Park through Cadjan Villas and paid only $40 for our Jeep + 10% tip and entrance to the park. We also did a safari through Minneryia and Kaudulla National Parks and booked through our accommodation, Darshani Lodge in Sigiriya and paid about the same.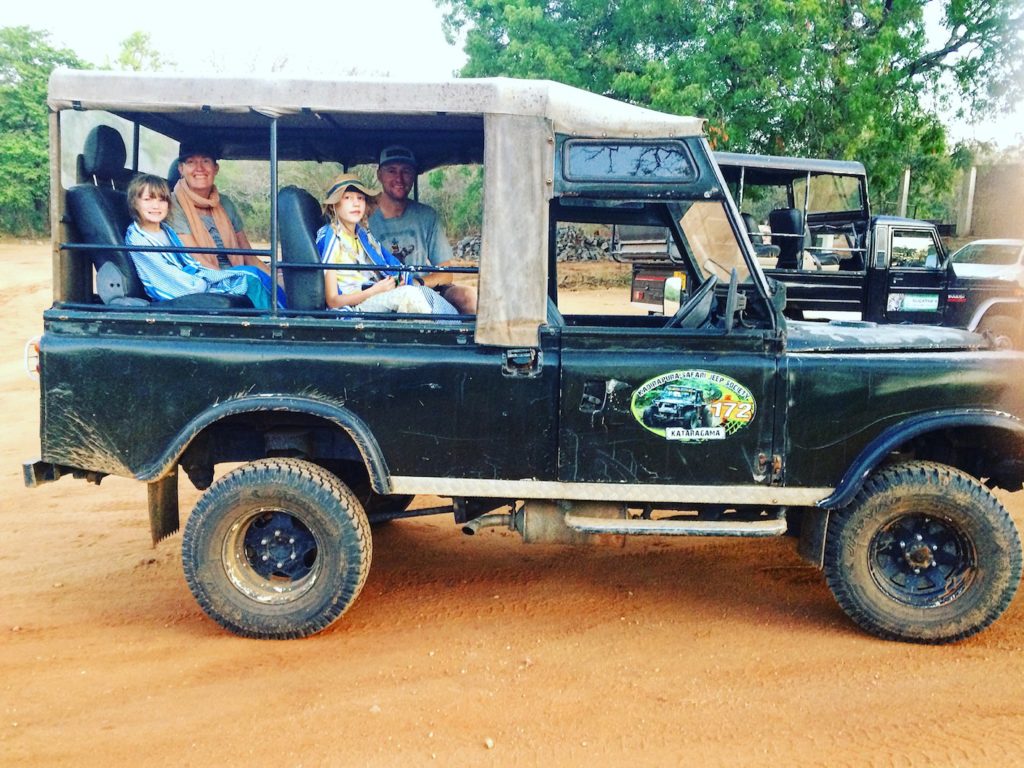 3. Surf the East coast
Arugam Bay on the East coast is famous for its mellow vibe with long consistent intermediate waves. It's a 7 hour trek from Colombo to reach the East Coast which is why it's always been the road less traveled. Our advice is to break up the journey in Kandy, explore the cultural triangle first, then continue onto Arugam Bay.  The vibe here is more "roll out of bed" and into the surf and you can do just that by staying in rustic affordable cabanas right on the beach. For us, this was absolute heaven, although the lack of air conditioning in the 40 degree heat eventually forced us to book one of the handful of luxury poolside hotels. If you are looking for surf lessons, Amigo Surf School is great and teaches all ages and abilities.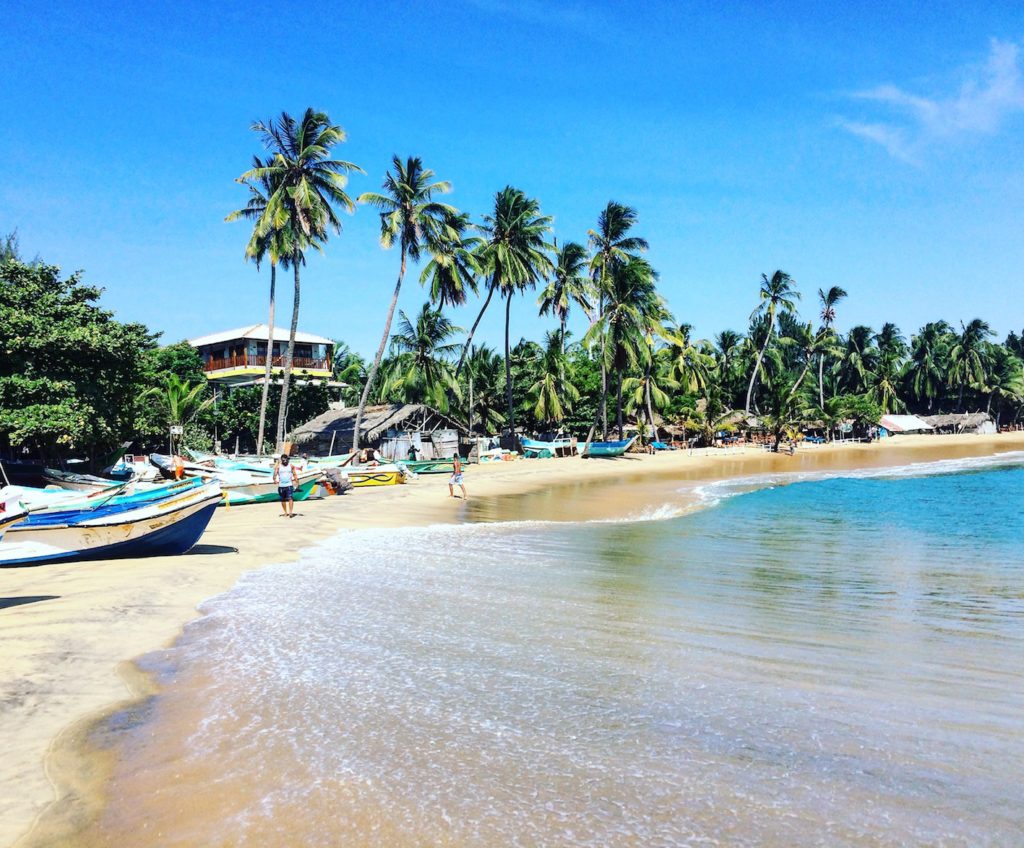 Baby Bay, nestled into the curve of the main beach, is the perfect place for beginner surfers and kids, whilst the more experienced surfers can head to The Point nearby.
When you've exhausted the waves in Arugam Bay, book a tuk tuk at dawn to access some of the more remote surf spots lining the coast where jungle meets sand and only a handful of surfers compete for waves. Peanut Farm, Elephant Rock and Puttuvil Point are all within a 30 minute tuk tuk ride, whilst hardcore surfers might want to head south to Okanda, a famous barreling surf break on the edge of Kumana National Park. Warning – do not enter lagoons. Crocodiles can be found in lagoons and sadly, one fatal croc attack occurred shorty after our visit.
4. Stay overnight in a tree house
Concealing our excitement was impossible when, at the end of our month long stay in Sri Lanka, we spent 3 nights in a tree house cabana overlooking the ocean at Lighthouse Point. 25 kms from Arugam Bay, Hilltop Cabanas has slow living down to a tee and is truly an escape to a simple life, led by surf. With only a handful of cabanas on a remote beach boasting epic surf, life here is basic with communal dinners, solar lighting and well drawn water. The best part? Cabanas start at only $15/night.
Bedding down with the noise of the jungle, the crash of the surf and the pressing blackness of night, sleeping in a treehouse was an exceptional highlight of our trip. Frequent altercations within the local squirrel population kept us entertained as they squabbled, racing above us through the rafters and to the delight of the girls dropping occasional pellets on the top of our mozzie nets. This paradise life is perfect for a night for non-surfing families purely for the adventure factor but our tip is, as there's not much to do apart from surf and chill with no shade on the beach, young families should keep a stay here to around 3 nights.
5. Take the iconic train journey from Kandy to Ella
Labelled one of the most beautiful train journeys in the world, catch this infamous blue train from Kandy to Ella, deep in the hill country. A 7 hour journey may sound like hell with kids but trust me, this was one of the most relaxing journeys we took whilst in Sri Lanka. Verdant tea plantations roll on for as far as the eye can see, hour after hour of stunning scenery as this train rattles slowly through the hills. Getting a seat can be difficult with tickets for 1st class and 2nd class passengers reserved months ahead in peak season, so we recommend booking ahead if you know you will be going in peak season.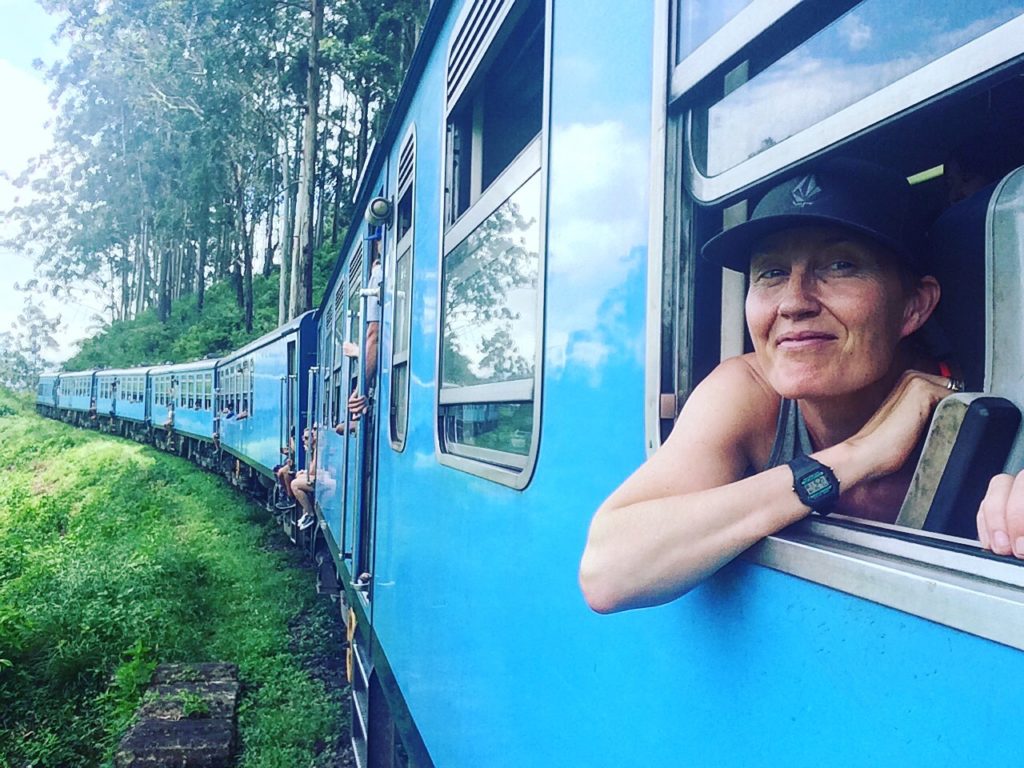 Either pay a bit more and book ahead on Visit Sri Lanka Tours to reserve tickets or take your chances like we did and catch the train one station before Kandy (snatching a seat before the crowds of Kandy swarm on). Whilst I couldn't hang out of the doors and re-create many of Instagram images I'd seen of this iconic train trundling through the plantations (it was too packed, I couldn't even get to the doors), we did get up close and personal with some lovely local families, which was a far richer experience.
6. Hike the hill country or walk the rails
Ella, a small popular backpackers town in the cooler hill country is fast becoming a favorite for hikers. With famous climbs such as the revered 2,243 m Adam's Peak (the route of an annual pilgrimage) and Ella's Gap, this area is a walker's paradise. Long hikes are a challenge in our family due to my youngest's mild Cerebral Palsy, so we opted for the very easy 3km climb up Little Adam's Peak.
Even if we did brush shoulders with a stream of visitors ascending this extremely accessible and undemanding route, the views were outstanding as was the chance to see tea pickers harvesting the tea plantations at the base.
Ella is the perfect base for exploration into the hill country, discover waterfalls and walk the rails. Pluck up the courage to sit atop the iconic Nine Arch Bridge and walk the tracks through the train tunnel where bats squeak and swoop.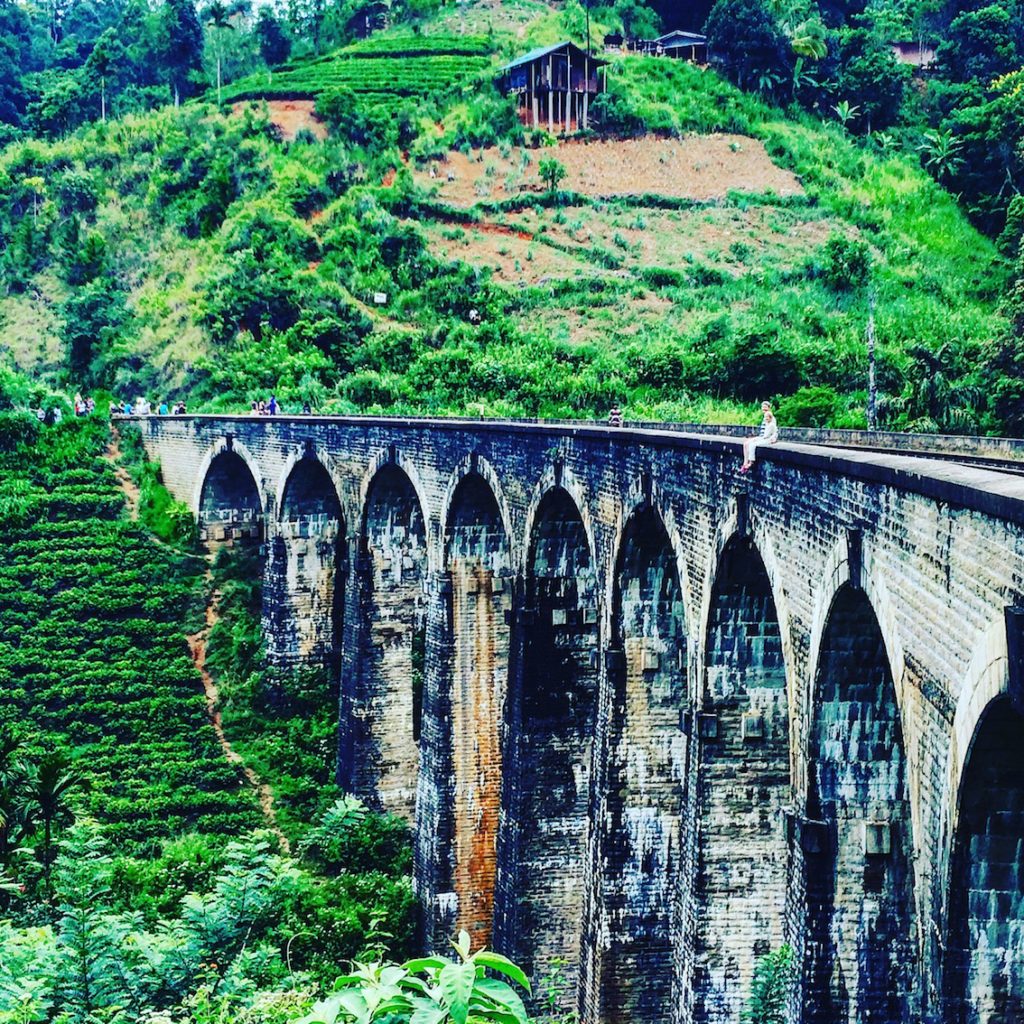 About the Nixon family:
We are a family of four hailing from the UK with a love for adventure and the great outdoors. We spend the Winters in the Alps skiing and snowboarding and Summers at home, on the beautiful wild coast of North Devon. We are just an average working-class family that prioritizes adventure and travel to make our dreams come true. We love staying in unusual places, exploring new lands and trying out new experiences. We genuinely believe that through travel and meeting people from all walks of life, living abroad and occasionally going against the grain, that we can teach our kids invaluable lessons while also living life to the fullest.
To read more about this awesome, fun-loving family and their travels to Sri Lanka and beyond, visit The Family Freestylers and also make sure to connect with them on Instagram.
Comments
comments