Over the last decade, Iceland has become one the world's top tourism destinations and for good reason: Iceland boasts some of the world's most diverse and beautiful landscapes on a small geographical island! From active volcanoes and hot springs dotting the island, to thousands of waterfalls, black sand beaches, impressive glaciers and ice caves, and of course, the natural phenomenon of the breathtaking Northern Lights, Iceland is visually captivating in a way like no other country on Earth.
Simply put, Iceland is the ultimate eye candy.
Years ago before we had kids (or before it became popular to go to Iceland), we had watched a documentary on Iceland and ever since then, Iceland had been climbing up our list. So, about two years ago while we were talking with some friends one night over dinner, they had also mentioned wanting to go to Iceland and so just like that, we decided to finally make it happen!
About a year prior to our trip, we researched the best places in Iceland (both on and off the beaten path) by reading blogs (such as Unlocking Kiki, who has a blog devoted just to Iceland!) and trusted websites like Lonely Planet, talking to travel buddies who had been, and of course, scouring through thousands of Iceland photos on Instagram (trust me, thousands!). We made a list of places that we wanted to see based on photos, research and recommendations, and then from there, put together a plan on the best way to see all those places.
Our list was HUGE. We quickly realized that we would need at least a month to really explore everything we wanted to. And that wasn't going to happen only spending 10 days there, so we carefully narrowed our list down to the must-dos for our first trip to Iceland (don't worry, we are already planning a return trip!).
From Day 1, we knew that we wanted to see Iceland via a camper van, where we could drive and sleep along the Ring Road (the highway that circles the entire island) at our own leisurely pace and also get the authentic experience of Iceland's raw and wild beauty. We had heard from so many seasoned travelers that if there was ever a country more suitable for a road trip, it was Iceland, and so we knew that renting a camper van was the way to do it.
After some research we finally decided to rent a camper van from Kuku Campers. For one, they had reasonable prices which helped us stay within our budget but also, they had a variety of camper vans from 4X4's, to camper vans that fit 2 to 5 adults comfortably, and also different sleeping arrangements and options. We loved that their camper vans offered all the amenities that we needed to have a successful road trip in Iceland, such as a portable heater (for those chilly nights/mornings), a fridge, a stove, and plenty of storage for our gear and food.
The camper van worked out perfectly and honestly was the absolute best way to experience Iceland! Our road trip was beyond incredible and having the freedom to drive and stop just about anywhere and see such a variety of landscapes was exactly what we had hoped for.
10 DAY ICELAND ITINERARY
We are going to try to keep this as simple as possible, just covering the main highlights of each area we visited along with activities and excursions we recommend. We also like to leave room each day for unplanned exploration because trust me, you won't want to follow a tight schedule! Iceland is full of surprises off the beaten path, so it's good to be flexible and go with the flow a little.
Please note that depending on your length of trip, you would need to adjust this itinerary accordingly. For example, if you are in Iceland for less than 10 days, don't try to see the entire country and just focus on one area of Iceland (we would recommend the South/East part of Iceland if that is the case). Or similarly, if you have at least 14 days in Iceland, we would recommend adding in the Westfjords and/or the Snaefellsjokull peninsula for a few days (we cut those areas out of our trip, but plan to explore them when we return). Also, this itinerary is more suited for late Spring/Summer/early Fall in Iceland, as many of the places on our list aren't accessible or ideal in the Winter.
DAY 1: DRIVE THE GOLDEN CIRCLE
This would be your first FULL day in Iceland, depending on when you arrive. We arrived early in the morning, so our first full day was the day we arrived. Once you've picked up your rental car or camper van and are ready to hit the road, head for the Golden Circle, a short hour to two hour drive from Reykjavik.
Highlights and stops along the Golden Circle include: Thingvellir National Park (a UNESCO World Heritage Site), Gullfoss waterfall, Strokkur Geysir and the whole Geysir Geothermal Area in the Haukadalur Valley, and Lake Kerid. If you are feeling really adventurous, don't miss out on scuba diving or snorkeling in the Silfra fissure, located in Thingvellir National Park. Silfra is a world famous dive site in which you dive in a ravine in the crystal clear waters between two tetonic plates, the North American and the Euroasian plates (not without proper equipment and instruction such as full dry suits since the water is very cold!). We had hoped to do this while we were there, but simply couldn't fit it in with just one day along the Golden Circle (if you choose this activity and still want to see the rest of the Golden Circle, we suggest spending two days).
After a full day driving and stopping along the Golden Circle at the sights, we stayed a night in a quaint and perfect Airbnb apartment rental in downtown Reykjavik to get a good night's rest (and a shower!) before heading out the next day and hitting the road for the next 9 days in our camper van.
DAY 2: HUNT FOR WATERFALLS
On Day 2, head south towards Vik. Along the drive and before you reach the famous waterfalls of Seljalandsfoss and Skogafoss, you will want to make a pit stop at Reykjadalur Thermal Hot Springs, a short one-hour hike up to some awesome natural hot springs in a river.
Reykjadalur was our first stop along the road, since it's only a 45 min drive from Reykjavik. Make sure to careful follow directions on how to get here. The hike starts from the parking lot where you first cross a bridge over a river and a hike on a gravel trail leading to Reykjadalur hot steam valley (don't forget your swimsuit and towel!). The hike is 1 mile long and takes about 45-60 minutes one way with plenty of photo ops. It's fairly easy, although there are some steep and narrow sections of the trail, so use caution as the trail has some sections of loose gravel. You will see some beautiful scenery, along with a view of the Djupagilsfoss waterfall, a stunning cascading waterfall in a canyon.
Once you reach the river, follow the path and cross the other side of the river. There are plenty of spots in the river to soak, however you might want to walk further up or down the river to find some solitude as these hot springs can be busy depending on the time of year you go. Further up the river is the confluence, where the hot river meets the cold river. The further up the valley, the hotter the river is.
Back on the road and headed south, our next major stop was Seljalandsfoss, a breathtaking waterfall that you can walk behind. This stop is hard to miss as these falls are visible right off the Ring Road to your left. With that being said, expect to see lots of other tourists. (*To avoid lots of people, try going early in the morning or later in the evening.) Depending on the time of year you go, be prepared to get wet too since these waterfalls produce a powerful spray. We would recommend wearing a rain jacket with a hood.
A lesser known waterfall near Seljalandsfoss is Gljufrabui Falls, a short walk down the path to the left of Seljalandsfoss (if you're facing the falls). These falls are found through a short canyon in a shallow creek, a bit hidden at first. We loved discovering these falls and even climbed up on some rocks in front of them to get a view of them from the top. Most tourists don't know about these falls, so if you're wanting to get away from the crowds that can sometimes be found at Seljalandsfoss, Gljufrabui is worth a visit.
Further south but not far from Seljalandsfoss, is the famous Skogafoss. These waterfalls are also very accessible from the road and quite popular, so expect not to find solitude here unless you come first thing in the morning at sunrise (which we did and it was worth it!). There is a large parking lot here, along with a campground, hostel and restaurant. This waterfall is probably the most photographed waterfall in Iceland and for good reason, they are truly astounding and breathtaking.
There are lots of great views of Skogafoss. We loved taking photos from the river looking up to the falls but we equally loved some of the views on the steep hike up to the top. Once you reach the top of the falls, you can see the valley and river in which they come from. There is also a world-famous hiking trail called Fimmvorduhals that starts at Skogafoss and ends in the highlands of Iceland in the beautiful valley of Thorsmork (approximately 15 miles long). Originally, we had planned to do this hike, but the trail is only open in the Summer months and we were there in September. If you don't want to attempt this hike by yourself and would prefer to go with a guide, we recommend using a company like Trek Iceland.
The last stop of Day 2 was Kvernufoss, a lesser-known waterfall near Skogafoss that really only locals know about. We followed directions to it and did the short hike (less than 0.5 mile) to this gorgeous waterfall up a scenic canyon that reminded us of Narnia. Just like Seljalandsfoss, you can also walk behind these falls. I can honestly say that out of the hundreds of waterfalls we saw in Iceland, these falls were in my top 3. It was such a treat to get them all to ourselves too!
It's up to you on where you want to park and sleep for the night. You can opt to camp at Skogafoss and have access to a shower, bathroom, etc (which is quite expensive) or you can do what we did and pull off on a dirt road nearby and camp there for free. (It is Icelandic law that you can camp anywhere on public land for one night). Or if you prefer, you can purchase a camping card, which gives you access to all of Iceland's campgrounds.
DAY 3: HIKE THROUGH THE HIGHLANDS
One place we really wanted to see and experience in Iceland was Landmannalaugar, often referred as the "painted mountains". This picturesque landscape is made up of windswept rhyolite mountains, a rock type that creates a full spectrum of dazzling color on the mountainside. Shades of red, green, golden yellow, and even blue all change their tone, keeping in movement with the sun rays and creating an area of wilderness that resembles no place else on earth.
Landmannalaugar is also known for its natural geothermal baths, so it's the perfect place to soak after a long hike, which is exactly what we did!
The ideal time to visit this amazing landscape is in Summer or early Fall, as the roads close in the Winter. It's truly a hikers and backpackers mecca, and consists of trails that are frequently ranked as some of the best hikes in the world, such as the Laugavegur trail, which runs from Landmannalaugar to Thorsmork and takes approximately 6-7 days to complete, sleeping in huts along the way.
Landmannalaugar is located in the Southern highlands of Iceland and is only accessible by 4X4 or a special vehicle that has the proper tires since the roads to get there are, well, bumpy and rough. Since our camper van wasn't a 4X4, nor did we want to risk damage to our vehicle, we decided to book an excursion with Trek Iceland. We chose to do the Landmannalaugar Day Hike since we didn't have time for much more than a day hike here this trip. However, when we return, we definitely plan to do one of the multi-day backpacking treks.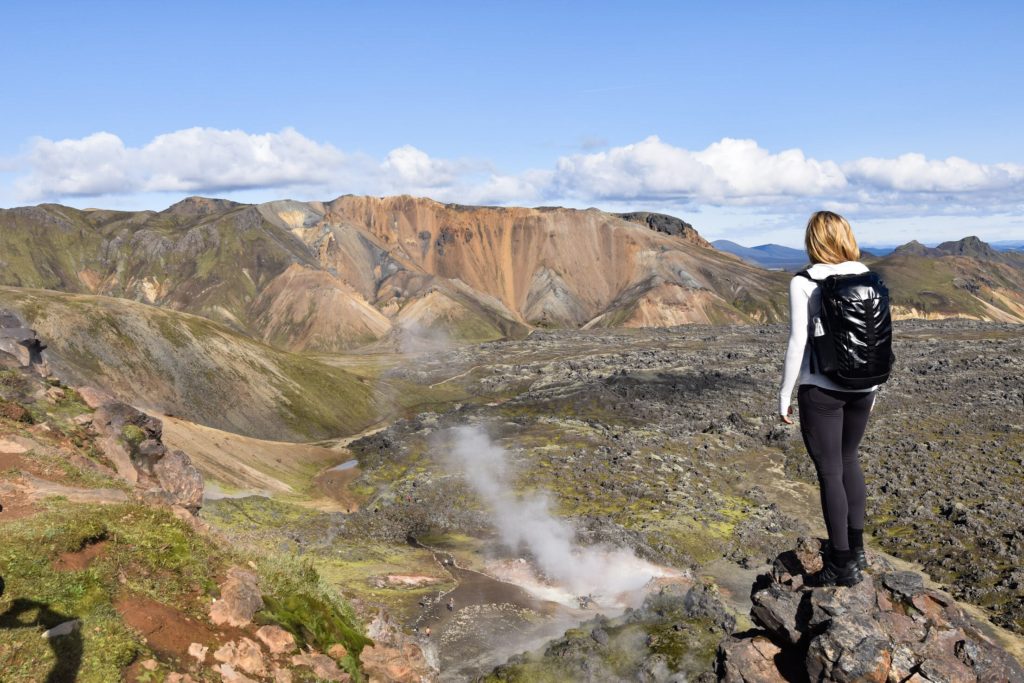 Our day started out with catching the bus shuttle from Hella (they have options for pickup locations) and then driving about 2 hours inland to the highlands where we would start our hike. Our guide was awesome, and very friendly and knowledgeable about the area. Our group was a lot of fun too, as we met people from all over the world. The trail we took was only about 5 miles round trip, but it took us a few hours to complete since we stopped to take photos and eat lunch.
We couldn't get enough of the stunning landscape here. Photos simply don't do a justice! Landmannalaugar definitely lived up to our high expectations. Finishing the hike in the natural hot springs was the icing on the cake. It was a long day, but we couldn't have asked for a better experience with Trek Iceland.
DAY 4: CLIMB A GLACIER
Did you know that 10% of Iceland is made up of glaciers? When you come to Iceland, you have to experience a glacier up close and personal. If you come in the winter or late-Fall, early-Spring, you can experience Iceland's glaciers from the inside, such as the Crystal Ice Cave Tour. These caves look incredible, but unfortunately for us, we were in Iceland at the tail end of Summer/early Fall, so we weren't able to do any of these tours (they close these glacier caves for safety reasons). However, there are lots of ways to visit these amazing glaciers any time of year, such as go for a glacier hike and ice climb, which is exactly what we did.
Because walking on a glacier can be treacherous and dangerous, it is recommended to go with a guide or tour company. We chose Arctic Adventures because they are professional, trained and more importantly, were recommended to us by several friends. We chose the Glacier Hike & Ice Climb tour simply for the reason that we wanted to hike AND ice climb all in one day.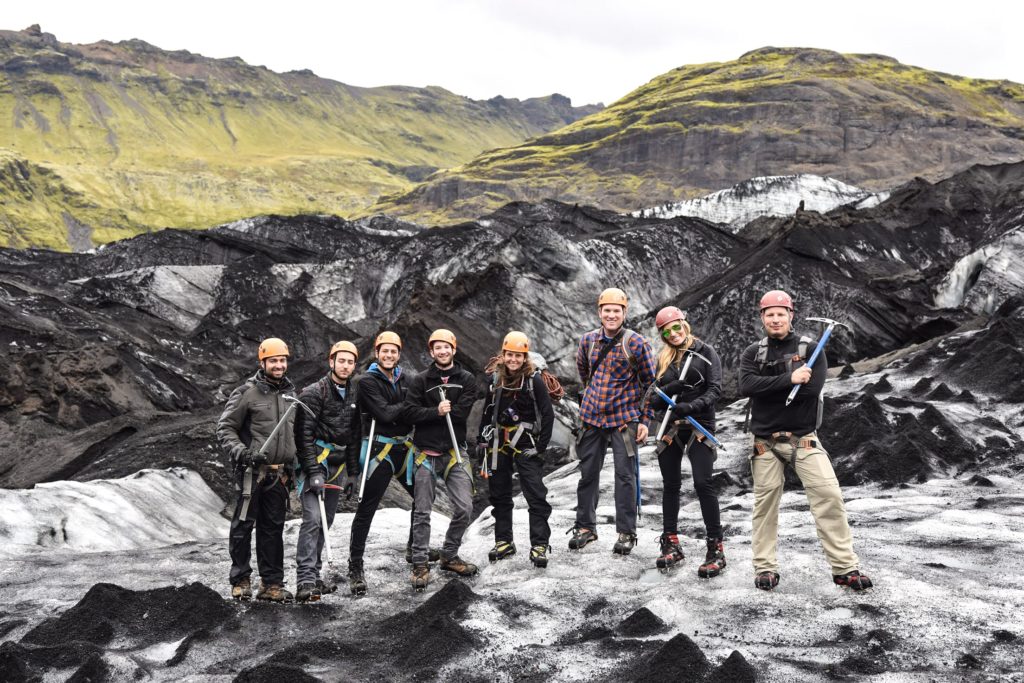 Our guide was amazing and very knowledgeable about glaciers and safety around glaciers. After we strapped on our harnesses, crampons and boots, and picked up our ice axes, we headed out onto the ice. The Solheimajokull glacier is a spectacular glacier located in the South of Iceland that is shrinking and retreating at a fast rate, leaving a lagoon that is growing larger with each year as the ice melts. Much of the lower portion of the glacier is covered in ash from the nearby volcano. At first we were bummed to not be walking on the "blue ice" (which you have to climb higher up on the glacier to see or go in the winter when the glacier is covered in snow), but it ended up being just as cool and such an adventure. Hiking through a maze of towering ice formations, jagged ridges and crevasses was beyond anything we had ever experienced before!
We took turns ice climbing on some tall walls of ice and let me tell you, so much fun! It was easier to catch on than we thought and our guide always made sure that we were safe. We even got to drink some glacier water–INCREDIBLE! Glacier water is the some of the cleanest, most pristine water you can drink on Earth.
After the tour, we headed southeast towards Vik to catch the sunset at the famous Reynisdrangar Beach and Dyrholaey overlook. Here you can walk along the beautiful black sand beach, climb the basalt columns and explore the cave on the beach. Dyrholaey is a short drive from Reynisdranger. It is a scenic overlook on some cliffs that piers out over the beach and ocean. There is also a lighthouse, which you can even stay at!
We camped just outside of Vik that night and ate at the most delicious local restaurant, Sudor Vik which plates consist of Icelandic staples like pan fried arctic char or fillet of lamb, coupled with grilled rosemary potatoes and fresh salads. The soups were amazing too!
DAY 5: DISCOVER THE LAND OF THOR
Thorsmork (or Porsmork), like Landmannalaugar, was on the top of our list of places we wanted to see in Iceland. Thorsmork in Icelandic translates into "valley of Thor". Located in the Southern highlands and nestled between three glaciers, this nature reserve is a hiking lover's mecca. Contrasting vistas of lush greenery and roaring glacier rivers cutting through black desert expanses make Thorsmork unique to not only Iceland, but anywhere else in the world.
After some research, we knew that the best way to experience this mystical valley was to explore it with a local guide in an off-road vehicle (since that's required to get here). Boy, were we not disappointed! We hired a guide with Discover Iceland and booked a private Super Jeep tour which was well worth the splurge! Our guide picked us up in a rugged SUV with giant tires (serious car envy!) and took us through some of the most beautiful terrain in all of Thorsmork. We spent all day crossing river after river, hiking up secret canyons to waterfalls and scenic vistas, and learning all about the history of Iceland and its culture. It was fascinating and one of our favorite days in Iceland!
There are so many great multi-day hikes in Thorsmork, that we plan to do some backpacking through this area, as well as Landmannalaugar when we return. So much to see and so little time! After a day spent exploring Thorsmork, head southeast towards Hofn, about a 3 hour drive. If you have time, make sure to stop at Fjadrargljufur Canyon. There are plenty of places to camp near Hofn, or you can also opt to stay in an Airbnb if you are in need of a real bed and a shower.
DAY 6: PADDLE AMONGST THE ICE
At the base of Vatnajokull, Iceland's biggest glacier, the scenery is breathtaking. Vatnajokull National Park, the largest national park in Europe, is situated near Hofn and home to the most amazing glacier lagoon you'll ever lay eyes on. Jokulsarlon is a glacial lagoon, bordering Vatnajokull National Park in southeastern Iceland. Its still, blue waters are dotted with icebergs from the surrounding Breidamerkurjokull Glacier, part of the larger Vatnajokull Glacier. The glacier lagoon flows through a short waterway into the Atlantic Ocean, leaving chunks of ice on a black sand beach, nicknamed Diamond Beach.
There are three ways to really experience the magic of this glacier lagoon. First is to take a zodiak boat tour out on the lagoon. You can also rent kayaks and go with a guide, such as Ice Guides, or lastly (and the way we chose), is to paddle board amongst these magnificent floating ice caps. I mean, who can say that they've paddle boarded around icebergs before? We knew when we saw people doing this, that we just had to do it.
We met Arctic Surfers in the parking lot and got suited up in our dry suits, booties, and helmet before heading out on the water. Even though we are both experienced paddle boarders, I'm not gonna lie, I was a little nervous about standing on a board on top of freezing cold water and potentially falling in! Our guide (and also the owner), Eli, was awesome though and reassured us that if we fell in, that our dry suits would keep us warm and dry (which they did!). The SUP tour on this glacier lagoon completely blew our minds. Exploring this jaw-dropping glacier lagoon up close and personal while learning about the geology of the area, its wild life and seeing these floating ice sculptures was like stepping into another world. It was definitely a once in a life time experience that we will never forget!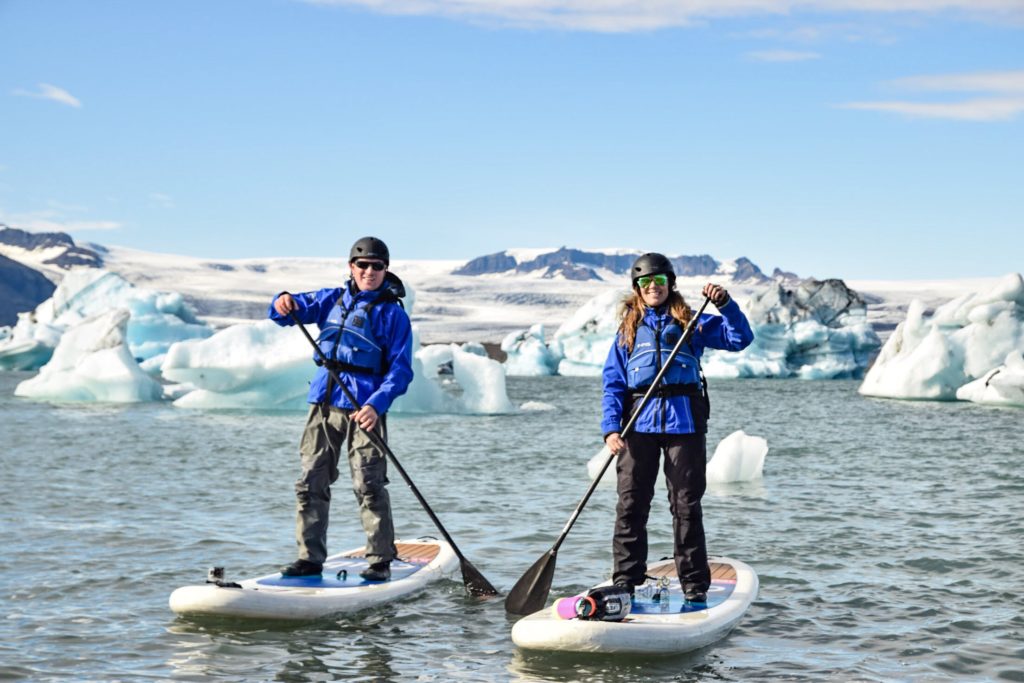 After taking in the beauty of Jokulsarlon, make sure to head over to the Diamond Beach just across the road. Diamond Beach was just as beautiful as Jokulsarlon with glistening icebergs lining the black sand beach. We got lucky to be there on a sunny day, which made the ice glitter in the sun. If you really want some fantastic photos, come here at sunrise when the light is ideal.
Make sure to eat dinner in Hofn at Humarhofnin. We enjoyed the lobster (what Hofn is known for) and it was divine. Pakkus, another restaurant known for the lobster, is located on the harbor is supposedly good too. Right before sunset, head over to nearby Vestrahorn and Stokksnes Beach, another stunning black sand beach beneath some tall, craggy mountains. Slightly off the beaten track, Vestrahorn is less 'touristy' than many of Iceland's other mountains, making it popular with photographers. Worth going at sunset too! *Please note that this beach is private property so there is a small entrance fee paid to the landowner for visiting this beach.
After dark, drive towards Breiddalsvik, which is northeast of Hofn a couple of hours. We drove later at night, which isn't advised on Iceland's Ring Road, but we wanted to break up our drive north so we didn't have to spend a chunk of a day driving.
DAY 7: EXPLORE MYVATN
Depending on where you stay the night before, it will be a 2-4 hour drive to get to the Myvatn area in the north which means you will want to get an early start. Plan for some pit stops along the drive too, since you never know when you might see a magnificent waterfall off to the side of the road!
Make sure to stop at Dettifoss and Selfoss, which is just north of the Ring Road before you get to Myvatn. Dettifoss is the largest waterfall in Europe by volume (500 cubic meters per second plunge over this massive waterfall) and it's quite impressive. Nearby Selfoss is worth the short hike as well. Plan for crowds of people though, so get your photos and then get out of there.
Continue onto Myvatn, which about 10,000 years ago, was covered in glaciers and is now Iceland's highest concentration of volcanic and geothermal sights. The whole area of the Myvatn Lake and surrounding territory used to be a barren wasteland, but shortly after that eruptions started and the glaciers mostly disappeared and vegetation established itself in the area.  A whole lot of molten lava raised down the slopes to the lowland and covered the countryside. The lake is huge and quite beautiful, especially in the summer when the surrounding hills and vegetation are lush and green.
The Myvatn Nature Baths are worth a visit if you have time. These soothing hot springs offer a completely natural experience that begins with a relaxing dip in clouds of steam rising up from a fissure deep in the earth's surface, and ends with a luxurious swim in a pool of geothermal water. Myvatn Nature Baths are a good alternative if you don't want to spend the money to go to the more crowded, touristy Blue Lagoon.
Right in Myvatn, don't miss the most amazing Icelandic dining experience at the Vogafjos Farm Resort. This farm, located right on Lake Myvatn is a fully functioning farm and greenhouse, and also offers a cozy guesthouse and a restaurant next to the cowshed. A true farm-to-table experience, this was by far the best food we ate in Iceland. They offer homemade local food such as smoked trout, lamb shanks (amazing!), beef stew, and vegetable crepes. Worth every single penny. This meal was by far our favorite meal in Iceland.
If you have extra time while in Myvatn, look into doing a day tour to nearby craters, Askja and Viti, or Hverfell, a volcano. Also, if you're a Game of Thrones fan, swing by the Grjotagja hot springs cave, where a scene from the series was filmed. These hot springs used to be a popular bathing spot, but because the temperature of the water has risen in the last couple of decades, it is not recommended to soak in them anymore.
Just past Myvatn, about 30 or so minutes, is Godafoss, and one of our favorite waterfalls we saw in Iceland. Nicknamed the "Beauty" to Dettifoss "Beast, these waterfalls were stunning to visit, especially at sunset. There are lots of vantage points, but we particularly loved witnessing them from the bottom (there is a path you can walk down and then across the rocks).
We drove to Akureyri that night, less than an hour's drive from Godafoss and wished we had more time to spend there. Such a beautiful, quaint city right on the water with the mountains as the backdrop. From hiking, to snow skiing in the winter, to mountain biking, whitewater rafting, and fishing, this town is a hub for all the action!
DAY 8: GO WHALE WATCHING
If you have the time and want to spend a bit more time in the north of Iceland, it's worth a day trip to Husavik, a charming fishing village about an hour northeast from Akureyri. It's also home to the best whale watching in all of Iceland. Unlike in other regions where you must sail a while to find whales, Husavik often has whales, porpoises, and even Iceland's famous puffin birds a few minutes from the harbor. Tours with companies such as Gentle Giants and North Sailing are done on newer, carbon-neutral ships that are quieter (nicer for whales) that don't pollute the environment. Check out the whale museum and the church by Husavik harbor too.
If you have extra time after sailing and exploring Husavik, some other side trips in the area that are worth mentioning  are Asbyrgi Canyon, a breathtaking horseshoe shaped canyon that has some great hiking trails, such as Eyjan Hill or Klappir. This quiet canyon is a great place to get away from the main tourist spots to enjoy the nature.
If you opt to stay in Husavik, and then head southwest, continuing along the Ring Road towards Reykjavik, it's best to break up the drive and camp along the way to avoid driving late in the night. We drove about 2-3 hours south of Akureyri before camping for the night and along the drive, witnessed the most spectacular display of Northern Lights we had seen throughout our trip in Iceland.
DAY 9: HIKE GLYMUR FALLS
Glymur Falls is relatively close to Reykjavik, about an hour's drive north. This was our last major stop on the Ring Road before returning our camper van in the city. Glymur Falls is Iceland's second tallest waterfall and a popular hike in the warmer months and definitely worth the trip if you have time (about 5 miles round trip). The terrain was different than what we saw all over Iceland, but exceptionally beautiful and unique. We climbed through a cave, crossed a river, and walked through trees and low shrubbery up a moderately steep trail to reach the falls.
You can also access Glymur Falls from the bottom of the canyon too, if you don't mind getting your shoes wet since it requires hiking up the river bed. We wanted to do this, but ran out of time. The views from the top of the canyon overlooking the falls were spectacular though. We even got the drone out and flew it down the canyon for a closer look.
If you aren't too pressed for time, a good side trip not far from Glymur Falls and also close to Reykjavik is Hraunfossar Falls and Barnafoss Falls. Hraunfossar is a series of creeks and cascades, both small and big streaming out of a lava bed. The color of the water is a brilliant turquoise, and quite beautiful. Barnafoss is another waterfall near Hraunfossar worth stopping at and a short walk from the parking lot.
DAY 10: SOAK IN THE BLUE LAGOON
We spent our last night in Reykjavik before hopping on an airplane and decided that the perfect way to end the trip was to soak in the famous geothermal waters of the Blue Lagoon. Let me preface that prior to the trip, we went back and forth about even going to the Blue Lagoon. Not being ones for a tourist trap, we had read that the Blue Lagoon was the #1 tourist destination in Iceland which to us, meant CROWDED.
After talking to a couple of friends who had been though, they convinced us that the Blue Lagoon was worth the hype and we ended up caving and purchasing tickets for first thing in morning on our last day (*Tip: make sure to purchase tickets in advance and we suggest choosing the earliest or latest entrance times). Lots of people go to the Blue Lagoon on their first day in Iceland, but honestly, I think going on the last day is best. After a long, adventure-packed trip around the country in 10 days in a camper van, it was heavenly to soak in these thermal waters on our last day. We got there at 8AM and enjoyed serenity and hardly a crowd for a couple of hours, which was the best part. Our entrance fee included a free drink and mud mask and we took full advantage of that too.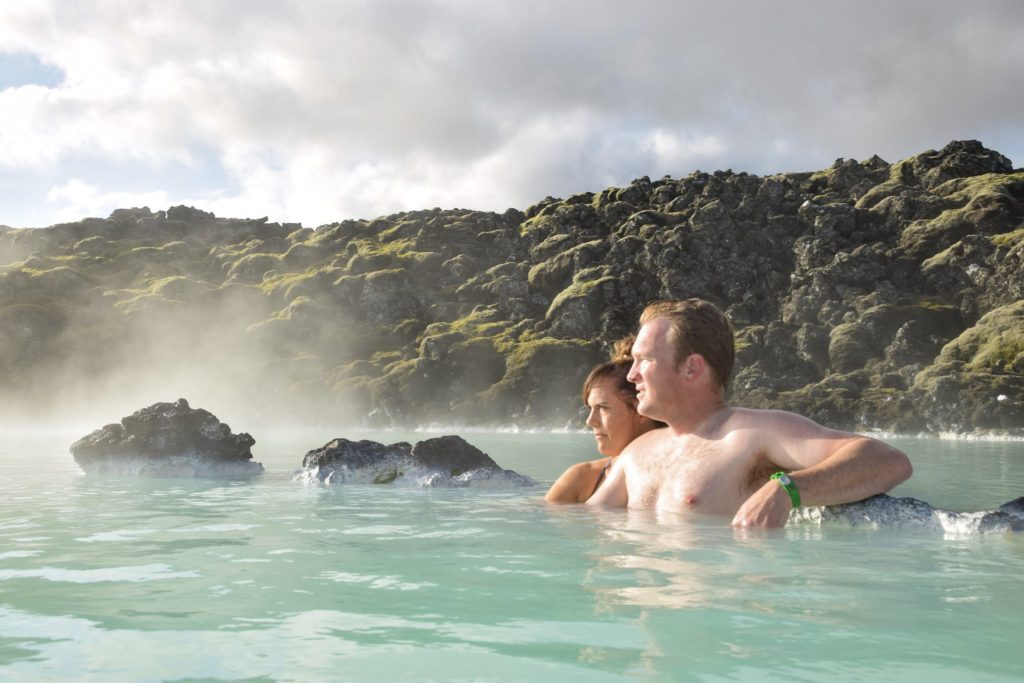 After spending a few hours relaxing and then showering at the Blue Lagoon, we headed into Reykjavik for one last Icelandic meal before flying out. There are so many good restaurants to eat in Reykjavik (be prepared for sticker shock though!), and this restaurant list includes a few that we ate at. You can't come to Reykjavik without roaming through the quaint streets and neighborhoods too, and don't miss the Hallgrimskirkja church, which stands on a hill in the center of the city.
If you aren't exhausted after an exhilarating trip around Iceland, than you didn't do Iceland right! Iceland is one of the few countries that we have visited that has us itching to return already. So much to explore in such a small country that even after multiple trips here, you wouldn't need to worry about seeing the same thing twice (and if you did, I don't think you would be disappointed ;)! Iceland captured our hearts forever and we can't wait to come back!
Comments
comments