For most of my life, I have been going on humanitarian trips down in Guatemala. It is really fun! There are expeditions every year with one in the Summer, and one around Christmas. Each expedition is one week long. People have to be eight or older to go on these expeditions.
When we first arrive in Guatemala City, we stay in a hotel called the Barceló hotel. Everyone on the expedition stays there for 2 nights. On one of those nights, there is a presentation for everyone about what to expect on the expedition. The presentation tells you how you should not drink water from the tap, how to use the toilets, how you should not eat certain foods and how to interact with the locals.
The next day at 7:00AM which is usually a Sunday, everyone gets on two big buses and for eight hours you ride in the buses. My family always ends up waking up at 5:00AM because there are five kids in my family which means a lot to pack. Also, it is good idea to pack a small bag of activities and things to do on the bus since it is a long drive. Usually after every two hours there is a stop for a bathroom break, and after the first four hours the buses stop for lunch. When lunch is done, everyone has to switch to three smaller buses. This is because for the second half of the bus ride, the roads are bumpy and there are lots of turns winding up the mountainous roads.
Eventually the buses arrive in Senahu and everyone gets off and starts to set up their stuff in a big gym. The people in Senahu mostly speak Spanish. Some people have tents; others just sleep with sleeping bags on the gym floor. If you sleep on the floor, make sure to bring a mosquito net with you. At dinner every night, there is a big piece of paper where you can sign your name under where you want to work for the next day.
Every morning, everyone goes to work. Even the children on the expedition work! Sometimes, it is just fun to interact with the local kids. They love new people and will easily get attached to you. Some of the jobs include things such as medical and dental, and so those volunteers have to go to different villages outside of Senahu. If you get assigned a job outside of Senahu, then you take a cattle truck to your destination, which means a bumpy ride since the roads in Guatemala are not paved. In some of the different villages away from Senahu, they speak a dialect called Kechi, so there is usually a translator from the expedition going with everyone to the these villages. Sometimes though, the local people from Senahu can translate Kechi to Spanish, so they come with us.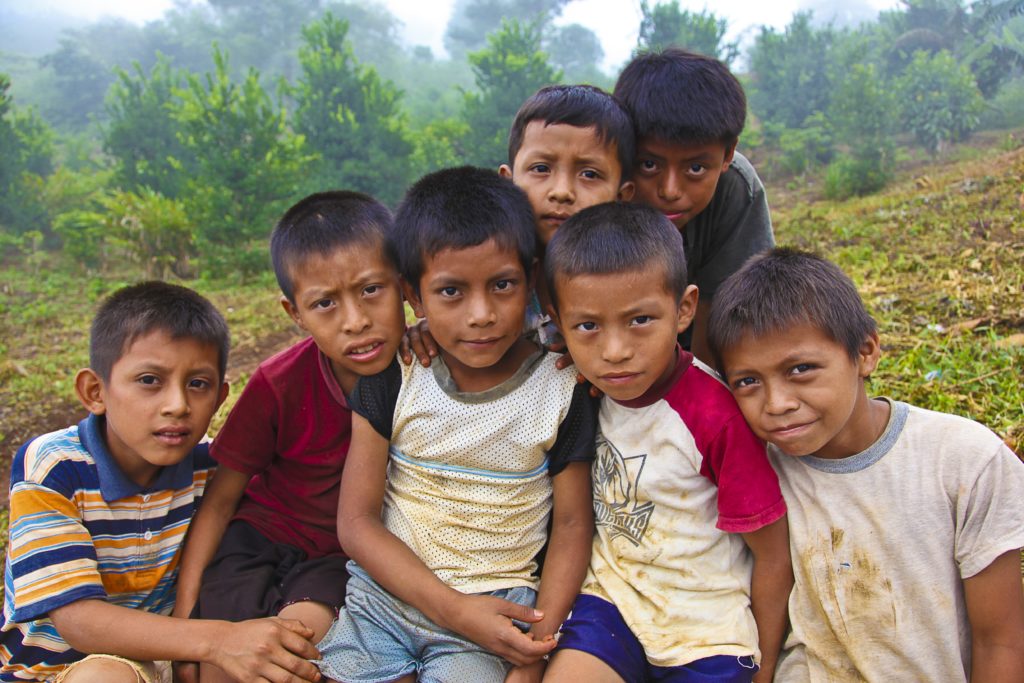 The next five days of the expedition are a lot of work. Often we make cement by hand, build foundations for schools, work in Dental and Medical clinics, and teach health and sanitation classes to the locals. Playing with the local kids is my favorite part though, because you make some new friends. At the end of each day at dinner, someone from each village tells the group what they accomplished that day and what their favorite part about the day was. During our week working in the villages, we have one day to rest where we can go to a waterfall, hike a volcano, go cave exploring, shopping, or my favorite: play soccer with the locals at the nearby soccer field.
At the end of the week, everyone gets on the buses to return to Guatemala City. That night for dinner at the hotel, there is a big slide show of everyone's pictures from the trip. It is really cool to see everyone's photos! Then they pass passed a survey to the adults and kids asking if you liked the trip or not, what you would change about the expedition, what your favorite part was, and what you would tell your friends about the trip.
My favorite parts of our Guatemala expeditions so far have been jumping off a waterfall, interacting with the village kids, shoveling cement and digging. I have learned a few tips on these expeditions such as sticking to bottled water, always packing a roll of toilet paper with you since the outhouses in the villages are terrible with no toilet paper, and bringing your favorite comfort food because you can get sick of rice, beans, and meat every day. With that said though, having these challenges is all part of the experience. My experiences on these expeditions have taught me that people in countries like the U.S. take everything for granted. We need to be more grateful for what we have because we are blessed to have an abundance of resources when so many other countries have nothing.
Sometimes I find myself not being grateful for the simplest things like a flushing toilet, warm showers, and clean water. I have found that in the United States, people have more but are not happy and then others have nothing, but are happy with what they have. Being on these trips has really opened my eyes and made me want to serve others more. Sometimes the expeditions are hard because you might get sick, or you don't want to continue to work because it is so difficult, but I have learned to just roll with it and enjoy the experience. I LOVE GUATEMALA!!!
Learn more about how you can get can involved in these life-changing trips with Family Humanitarian Experience.
Written by: Ava Von (age 13)
Comments
comments