In 2016 we decided to take 3 months off before our son went to school. We went from tropical Sumatra to the heights of the Tibetan plateau. One of our favorite places we visited on that trip was Sumatra, Indonesia. Sumatra is a great place to visit if you want to have an experience of a lifetime, a little off-the-beaten path. It's less touristy than most Indonesian destinations, such as Bali, but just as beautiful and easy to get around. It has everything a traveler wants: adventure, nature, wildlife and culture, all without spending a small fortune. In Sumatra, you can take care of rehabilitated elephants, see an erupting volcano, spend time on a deserted island, search for wild orangutans, and visit one of the world's most interesting indigenous people deep in the jungle.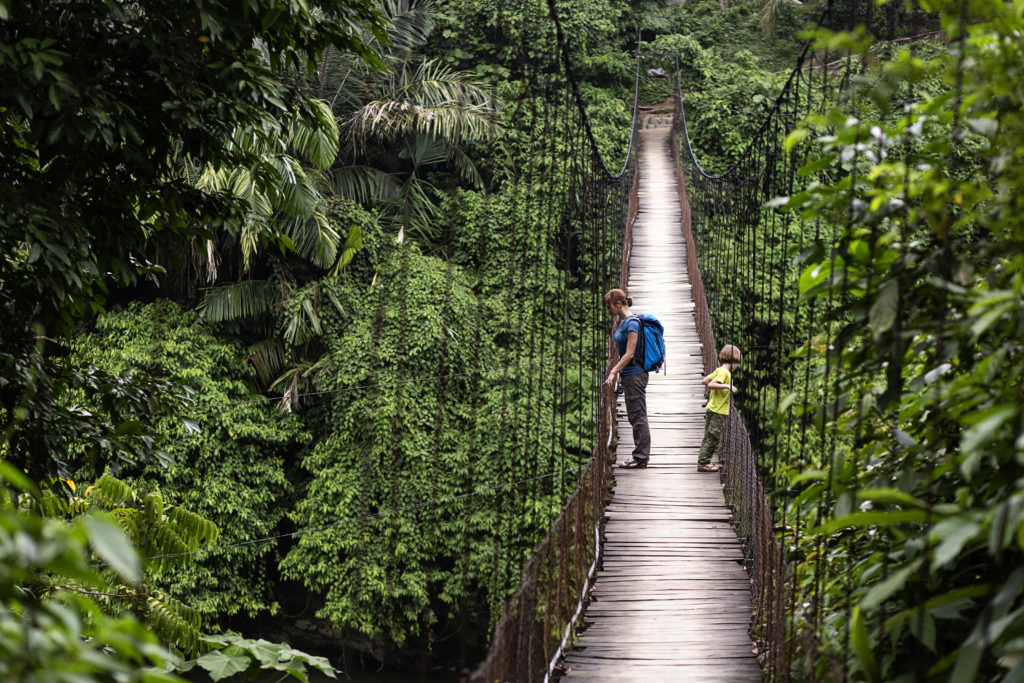 The best thing about Sumatra is that although it offers loads of special places to visit, it's still affordable and not a place for package tourism. It is a place where you will want to slow down and take it all in. We found Sumatra to be a very budget friendly destination for all it has to offer. We spent around 75 EUR (or about $85 USD) per day for the three of us. But we always took private cars with drivers when traveling from destination to destination. If you decide to use local transport, that cost could drop by 25%.
Here are our top 5 places to visit in Sumatra:
BUKIT LAWANG: Search for wild orangutans
Bukit Lawang is a village near Gunung Leuser National Park and one of the last places on earth to see wild orangutans. Hire a guide in the village and do a one day (or longer) trek deep into the jungle in search for the orangutans. This experience is very special and the sight of these beautiful endangered animals in their natural habitat is simply unforgettable. We stayed at Thomas' Retreat which is a great location in the village just by the river, and booked the jungle tour at the hotel. The owner, Thomas was an excellent guide.
BANYAK ISLANDS: Find your own tropical paradise
If you are on Sumatra, make sure you visit the Banyak Islands. It's a magical place that you will take your breath away. The Banyak Islands are an archipelago off the western coast of Sumatra consisting of around 70 islands, most of them inhabited. It's like Thailand or the Philippines 40 years ago – you can count the tourists by fingers of one hand.
You can hire a local fisherman with a boat and explore this beautiful archipelago, camp on the most amazing islands you will ever see, snorkel and see the rich underwater life, go sea kayaking and fishing. Here you will have the time of your life!
We stayed three nights in MB Camp Palambak on Palambak Island and did 3 days of island hoping with a local fisherman Anhar from the village of Haloban. We slept in a tent everyday on a different deserted island. You can connect with Anhar Alenta on Facebook. You can read more on our complete guide to the Banyak Islands.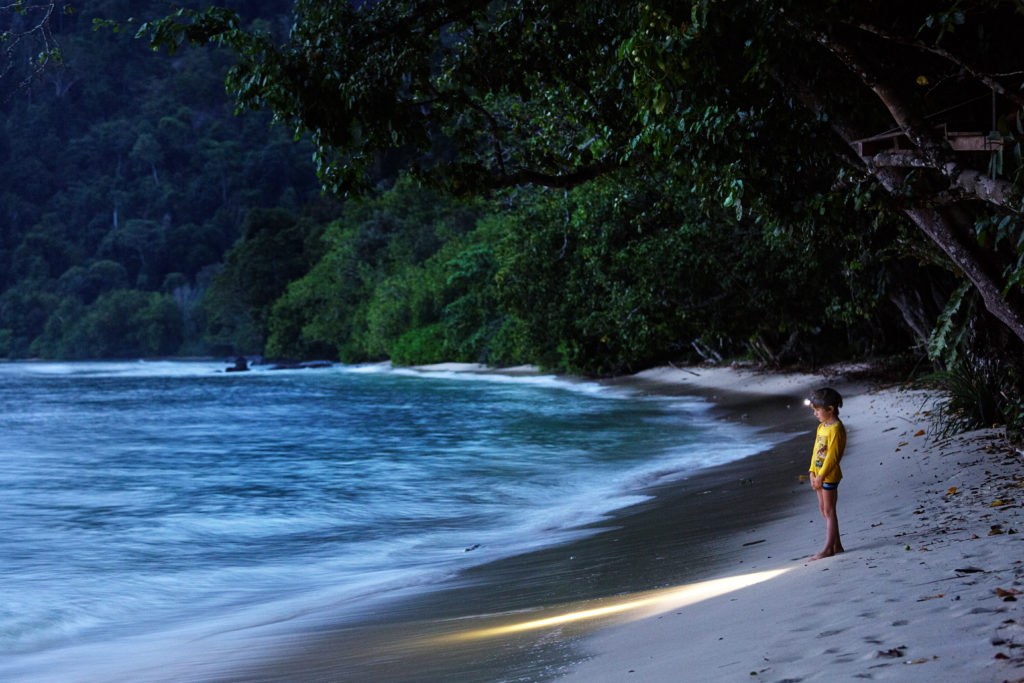 BERASTAGI: Climb a volcano
Berestagi is a town located 1,300 meters above sea level. It's famous for being the fruit capital of Sumatra and for having active volcanoes in it's neighborhood. You can climb on one of them – Mount Sibayak (2094m) which is one of Indonesia's most accessible volcanoes. The other volcano – Mount Sinabung regularly erupts and you can watch the eruptions and explosions from a location nearby, but still far enough to be safe.
We stayed at Berastagi Nachelle Homestay, a lovely place to stay with a very nice owners. Our tours to both volcanoes were organized by them.
TANGKAHAN: Take care of rehabilitated elephants
Tangkahan is a small village on the border of Gunung Leuser National Park in North Sumatra. It's located at the junction of the rivers Buluh River and the Batang River. Tangkahan an eco tourism area, remote and quiet, and where you can experience spending time with rehabilitated Sumatran elephants. These elephants help guards to control the jungle area and protect it from poachers. When it's bath time visitors are allowed to help. You will never forget this experience!
We stayed at Mega Inn which has terraces with nice views on the river. It was very basic, but it fit our needs and was very cheap. We booked our elephant bathing experience at the hotel.
SIBERUT ISLANDS: Wild jungle trek to vanishing culture of indigenous people
Siberut Island is a very special place in Sumatra (or in all Indonesia). It's home to one of the most interesting tribes on the planet – the Mentawai people. To reach their villages and to have a look in their tribal community, you have to do a long jungle trek deep into the tropical rain forest. It can be a tough place to hike, so a good guide and some preparations prior the visit are recommended. Please note that this hike or trek might not be suitable for young children (only my husband went). We did a lot of research for the most reputable and reliable guide. The guide Agus was a perfect choice and he took care of everything needed. You can find him on Facebook as Sakukret Agus. You can read our diary on visiting the Mentawai people. It was an unbelievable experience.
On a side note, Siberut Island is also one of the best places for surfing in all of Indonesia. You can stay at a surf camp and spend a few days in this tropical paradise surfing some of the world's best waves.
Go to our complete itinerary and guide for visiting Sumatra
About the Corel family:
We are a family of three from Slovenia. We love to travel, outdoor adventures and activities, experiencing new things and exploring new places. We really love nature and our favorite accommodation is camping.
The most important part of our travels is spending time together as a family 24/7. The next most important thing to us is spending time with locals. That's why we like to travel to areas that are not overwhelmed by tourists and where places are still unspoiled and pristine. In foreign countries we like to take a local guide for few days to make the contact with the locals more efficient. It's great to see exotic wild animals and beautiful landscape, but the interaction with people and the stories you hear are the memories that you will hold onto forever, will open your eyes, and change your perception of the world.
To read more about this amazing family, go to their blog Family Corel Adventures and connect with them on Instagram.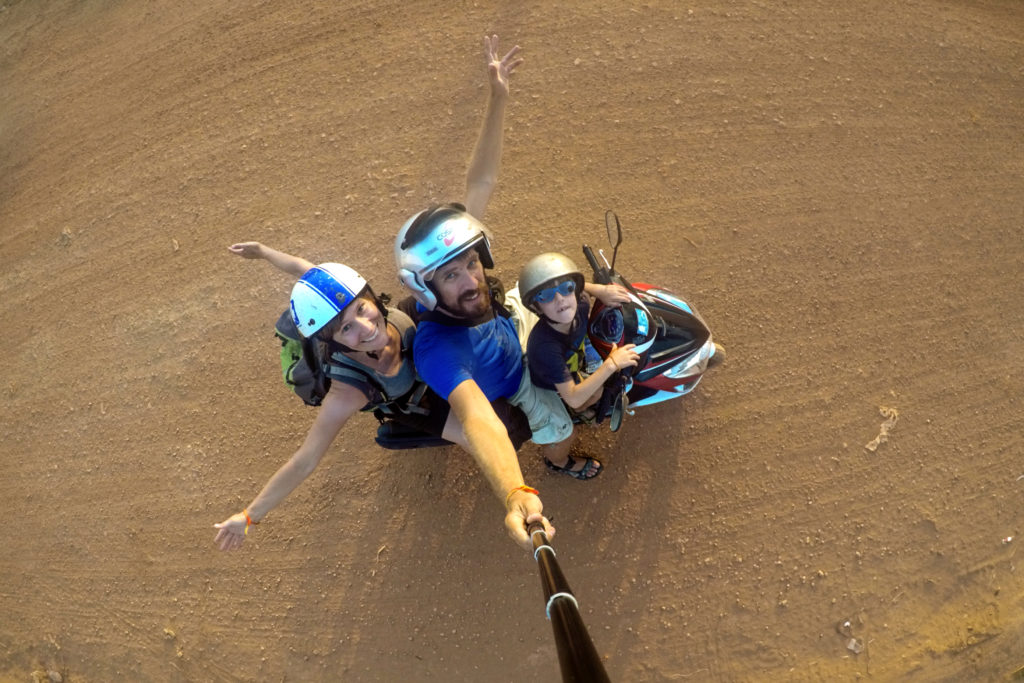 Comments
comments