I don't know about you, but we love a good road trip. Summer is the best time to hit the open road with kids out of school, longer days and plenty of sunshine, and a plethora of outdoor activities to do. We usually take several road trips every summer, most are extended weekends (because work), but we try to take one longer road trip for a couple of weeks each summer. We recently partnered with Cenex to help us plan and fuel our epic summer road trips and provide you some tips on how to plan the perfect, EASY summer road trip.
*This post was sponsored by Cenex, however all content and opinions are our own.
In case you aren't sure who Cenex is, Cenex is a U.S. based company and the largest member-owned petroleum brand in North America. With over 1,400 Cenex convenience store locations in 19 states, Cenex makes it easy to stop while you're on the road for high-quality, affordable fuel and your favorite snacks. Many of their locations are in more rural areas, making it even more convenient and essential when you're on a road trip, in the middle of nowhere and need gas (trust us, it's happened to us many times!). We love that Cenex is all about supporting local businesses and our farmers too! To find the Cenex retail locations near you, or along the route of your next road trip visit Cenex.com
We've got some fun adventures planned on the road this summer to include plenty of outdoor recreation (of course) such as hiking, kayaking, paddle boarding, white water rafting and more. Curious as to where we are headed? You'll have to stay tuned to find out as we plan to do an end-of-summer post and video of a round-up of our road trip travels. You can also follow along our adventures on Macs Explore.
So, want to plan a quick road trip for your family this summer that won't blow the budget, isn't too far from home, and requires minimal effort in planning? Follow these simple steps and soon enough, you'll be hitting the road with your kids in tow.
Put it on the schedule.
Look at your schedule and find a long weekend that you can take off. This could be a holiday weekend such as 4th of July, or Labor Day weekend. We usually do a road trip over a holiday weekend because that means we have a little extra time off work. But it doesn't have to be a holiday weekend. Holiday weekends can often be more crowded at your destination, so if you want to avoid the crowds, don't travel over a holiday weekend. For us, the perfect short weekend away is 3-4 days. It requires less "time off" work, is more inexpensive, takes less planning, and it's the perfect little break from the hustle and bustle of life and a chance for us to make memories as a family.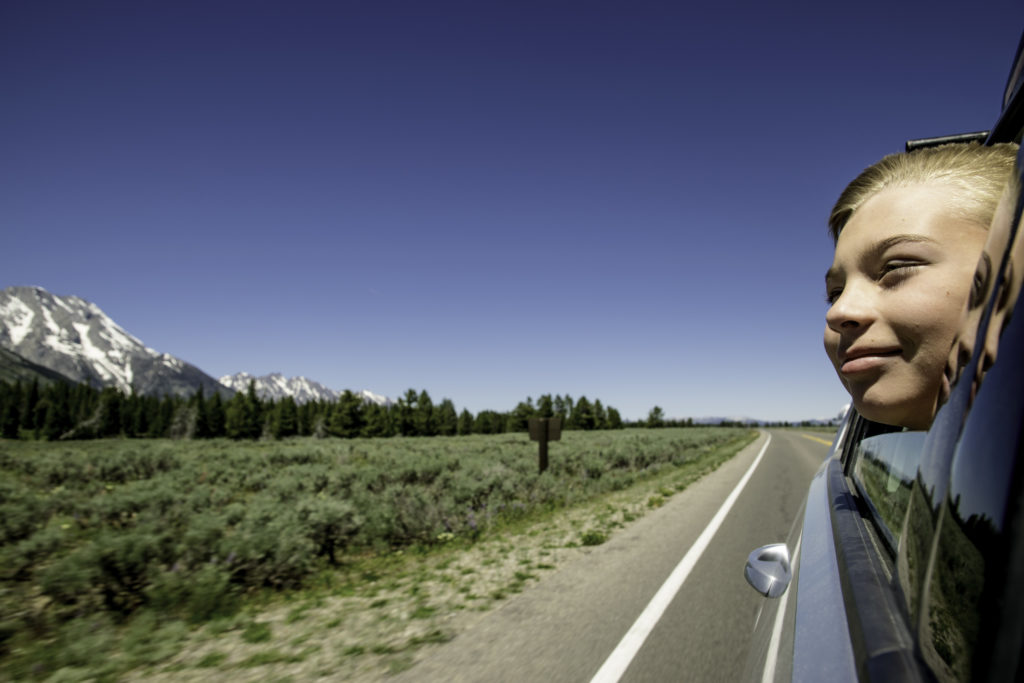 Figure out your driving distance.
For a shorter road trip, we usually don't like to travel more than 4-6 hours away from home because we want to maximize our time at the destination. However, you might enjoy driving a lot, so if that's the case, choose a destination that is farther, with more frequent, shorter stops along the way.
Choose a destination.
Research cool places to see within a shorter distance of where you live. For example, if you live in the Salt Lake City, UT area you could travel to Southern Utah and hit one or more of the major National Parks such as Zion, Bryce, Arches, Capitol Reef, among others. If you live in the Seattle, Washington area you could spend a few days on the San Juan Islands, drive up to Canada (remember passports!), visit Mt. Rainier or the North Cascades, or even drive down to Oregon and see the coast. So many options anywhere you live. If you aren't sure where to go (because the internet can be overwhelming), a great place to start is your state's tourism website! You would be surprised by how much great and valuable information you can find on there. Or do what we often do and ask your friends on social media, like Facebook. Friends love to give their recommendations, so ask away! If anything you might get too many opinions which might make it harder to decide on a destination!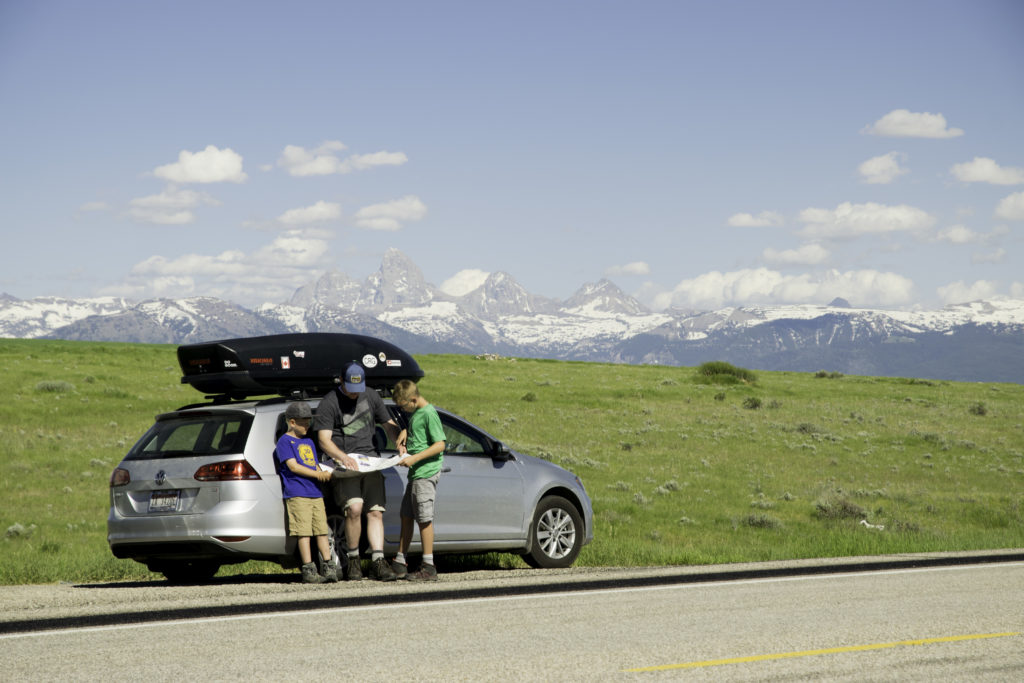 Review your budget.
How much you are wanting so spend will dictate how far you can go, where you stay, etc. We recently did a trip to the Tetons for 4 days for under $600! We saved money by mostly camping, not eating out a lot and bringing our own food, and choosing mostly free activities like hiking and fishing. Know before you go how much you want to spend and then plan accordingly.
Figure out where you want to stay.
If you are looking for the cheapest accommodations, camp (that's what we do a lot of the time)! Just remember that depending on where you go, you might have to book reservations ahead of time to ensure you have a campsite. If you aren't much of a camping family, but want to learn how to camp easily and affordably with kids, go to our camping post. Another option is to book a place with Airbnb, which offers plenty of affordable options for families (you select your budget), plus you often have a kitchen to cook with which saves money on food. You could also look into house swapping, where you swap houses with someone for a specific time period you choose. We haven't tried this yet, but really want to!
Plan your activities.
Or don't plan your activities! Sometimes we like to just show up at a destination and ask the locals what to do when we get there. This method works best if you are trying to save time planning, but sometimes can cause a bit of anxiety when you get there and have no plan. Our recommendation is to plan maybe a couple of things to see and do, and leave the rest of your schedule open for other things to figure out when you get there.
Pack smart.
For a shorter road trip, you don't need a lot of clothing, but if you're camping, remember layers if you are going somewhere cooler or has unpredictable weather. Check out our Gear for affordable ideas on clothing, camping, and other outdoor and travel gear. As for clothing, just bring the basics to save space, but always remember good walking shoes (and extra socks!) and water shoes like these Keen water sandals and swimsuits if you're going to be swimming or near water. We love these packing cubes because they don't take up very much space (perfect for the car) and you can keep your stuff organized. Bring a cooler for food and beverages that need to be cool (even if you aren't camping!), so you can stop along the road and have options of healthy foods to eat on the road instead getting fast food. Or if you need to stop, gas stations like Cenex have convenience stores with healthy options of snacks and food for the road.
Give the kids games and simple activities to do in the car.
Having activities and games will help pass the time for everyone! We are fans of movies, but when you're driving a lot, sometimes letting the kids watch movies or play on their devices is too much screen time. Plus, sometimes that time in the car is the perfect opportunity to take advantage of time together. Games don't have to be elaborate or even require any materials like these simple road trip game suggestions by Parents Magazine. We also love Six Sisters Stuff road trip ideas which require a few materials but will keep your kids occupied for hours. Or how about some noise-free car games? We all know how noisy the car can get with kids, so having a little peace and quiet goes a long way.
Be flexible on the road.
Try not to have a strict schedule to reach your destination so you can stop along the way, stretch, and enjoy the scenery. Most people are so set on reaching their destination, but we've learned that road trips are better when we stop along the way, learn something new about a place, get out and explore or do something active (even if it's for a short time), eat at a local diner, or talk to the locals and get their suggestions on what to do/see a little off-the-beaten path. Some of our favorite memories are those unplanned, spontaneous moments when we pull over and relish the views!
Document your road trip.
This might seem obvious, but make sure to take lots of photos/videos ALONG your road trip, not just at the destination. You will want to remember those in-between moments on your road trip, playing games or singing tunes in the car, the sights you see along the way, and yes, even the stops. Invest in a GoPro if you don't have one already and use it to document your trip. We even let the kids have a turn using it and often it's some of our favorite footage! You can also give your kids a small travel journal where they can draw, write favorite memories and stories from the trip, and then add pictures to them when you get home. You can buy one like this simple travel journal for kids or you can make your own with a binder and these free printables. You want your kids to remember these memories when they are grown!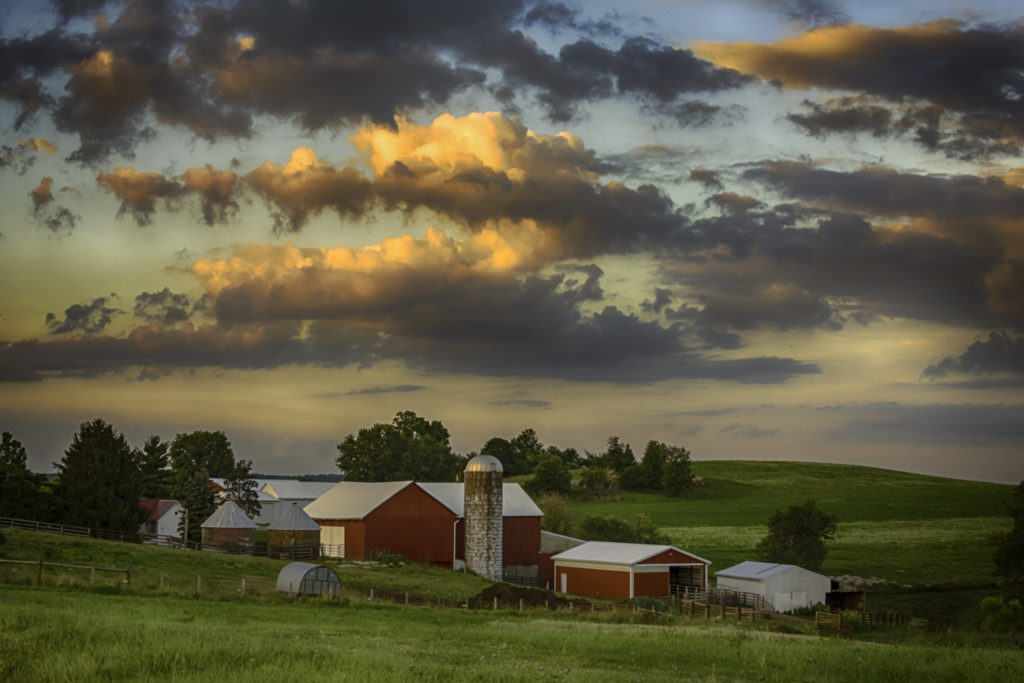 Road trips don't need to require that much work to plan or even that much money. You also don't need to go far to see some spectacular places! Explore your own state and you'll be amazed by what you can find along the way. It's not about where you go, it's about who you're with and the memories you make along the way as a family that counts.
Big thanks to Cenex, for sponsoring and helping us plan our awesome road trips this summer!!
Comments
comments