As a family, we are big fans of road trips. It's the perfect kind of trip if you are looking to save money on your family vacation (driving is usually cheaper than flying), see a variety of places and landscapes, and spend quality time together. Summer time is usually the best time of year for most families to take a longer road trip with school being out, but that doesn't mean that you can't take road trips any time of year (certainly going off-season has its advantages!).
There are so many incredible places to explore in the United States that you can't cover it all in your lifetime, but we've narrowed it down to a few of the most beautiful All-American road trips. These road trips cover some of the most breathtaking regions of the U.S., including many of our beloved National Parks, scenic highways, and the most variety of terrain. And the best part is these trips can be done in 10 days or less!
*This post was sponsored by Wyndham Rewards, however all content and opinions are our own.
We have partnered with Wyndham Rewards on our adventure, as Wyndham Rewards is offering an awesome summer promotion. Right now, if you book two or more nights at ANY participating Wyndham Rewards hotel (which covers hotel brands such as Wyndham Grand, Dolce Hotels and Resorts, Days Inn, Ramada, Super 8, Travelodge and more), not only do you receive 15-20% off your stay, you also get 1,000 bonus points that you can rack up and redeem later for a free stay! We love that Wyndham Rewards offers a variety of accommodations ranging from budget-friendly (for families like us!) to more upscale accommodations. And with over 8,000 hotels all over the world, you have options pretty much anywhere you go. No other hotel chain in the world has a rewards program like Wyndham Rewards, so if you travel a lot like us, you definitely want to take advantage of this promotion.
(Warning: This is a MEGA post so to avoid scrolling through the entire thing, just click below on the road trip you want to read about!)
5 All-American Road Trips:
---
Fall in Love with the Pacific Northwest
Day 1: Seattle
Spend a day in Seattle stopping at Pike's Market for local eats, flowers, and art. Make sure to eat at Pike Place Chowder for some of the best clam chowder you'll ever have! For more ideas on what to do in this city, see Lonely Planet's Guide to Seattle.
Stay at any Wyndham Rewards hotels in the city for all the best deals!
Day 2-3: San Juan Islands
In the morning, hop on the car ferry from Anacortes to the San Juan Islands. Rent bikes and ride around Friday Harbor on San Juan Island, test your sea legs out in a sea kayak (if you're lucky, you might even spot whales!), or take a hike. We loved the hike around Mt. Constitution on Orcas Island (the highest point in the San Juan Islands). You can also go on a whale watching tour if you don't want to go sea kayaking. Endless outdoor activities on the San Juan Islands and views that do not disappoint!
We love the Resort at Deer Harbor on Orcas Island. Nestled on 11 acres on Orcas Island, the property overlooks the Deer Harbor Marina, and is where all the action is.
Day 4-5: Olympic peninsula
Take the first ferry out from Friday Harbor to Port Angeles, the gateway to Olympic National Park. This park is one of our favorites and also one of the most diverse National Parks that we've been to. From the gorgeous rugged coastline and beaches to the lush Hoh Rainforest (the largest rain forest in the contiguous U.S.), and the jewel-colored lakes and snow-covered peaks of Hurricane Ridge, the Olympic peninsula has it all.
On the coast, hit up Ruby Beach for a spectacular sunset and the tide pools at Kalaloch or Mora's Hole in the Wall are some of the best in the U.S. Take a short hike to Second and Third Beach, which also have great tide pools and incredible views. Just make sure to check the tides tables before you go so you know when the tide is low.
Spend a half day hiking through the Hoh Rainforest on the Hall of Mosses, the quintessential trail through this magical rainforest and just under 1 mile. You can combine it with the Spruce Nature trail for a longer hike if you like.
Other note worthy stops on the Olympic peninsula if you have the time are Hurricane Ridge, Sol Duc Falls and Hot Springs, and Lake Crescent. There are lots of affordable lodging options through Wyndham Rewards on the Olympic peninsula.
Day 6-8: Oregon coast
You will spend most of a day driving from the Olympic coast in Washington down to Oregon where you will spend the next couple of days. The Oregon coast is truly heaven on Earth! So much untouched beauty, leaving you breathless at every turn. Plus, there's something charming about this coast lined with quaint towns, historical sites, great hiking trails, and of course gorgeous beaches and vistas. In order to really explore the whole coast, you will need more than just a few days, so if that's what you want to do, make sure to check out the Ultimate Oregon Coast Road Trip by the Local Adventurer for tips and ideas.
Because we are only including a couple of days on the Oregon coast in this Pacific Northwest road trip itinerary, we will highlight just a few spots along the Northern regions of the coast so you can maximize your time here and not spend those two days driving the whole time.
Seaside and Cannon Beach are the hub of Oregon Coast activity. Here you can rent fat bikes and ride along the beaches, go clam digging, and take a hike in Ecola State Park. We suggest doing the Tillamook Head trailhead, which is about 6 miles round trip and absolutely gorgeous! Or if you just want an easy day at the beach (bring a picnic!), you can't go wrong with that either. There are plenty of accommodation options along the Oregon coast to fit your budget too.
Day 9-10: Columbia River Gorge and Portland
After a couple of days exploring the coast, head east towards Portland. End the road trip by spending a day in this vibrant city and a day along the Columbia River Gorge. Our favorite things to do with kids in Portland include the OMSI Museum, riding bikes along the waterfront and eating delicious food at the street carts in downtown PDX.
The Columbia River Gorge is famous for its many waterfall trails. The hardest part is figuring out which trail to do! We recommend the Multnomah-Wahkenna Loop, which takes you to 7 different waterfalls in 5 miles round trip, including the iconic Multnomah Falls.
---
Epic Views in the Southwest
Nowhere in the world has landscapes quite like the dramatic desert of Northern Arizona and Southern Utah. If you want your mind blown, you definitely have to take a road trip through the Southwest sometime in your life. You could spend weeks, even MONTHS traveling through this region and not see it all. There are simply too many amazing places to see and explore here. The good news though? It's all within a relatively small geographical area, which means you can cover a lot of ground if you plan smart.
Day 1-4: Las Vegas and the Grand Canyon
Our road trip through the Southwest starts in Las Vegas. You can either spend a day here in the city or skip it (our choice!) and head for the Grand Canyon. The South Rim is about 3-4 hours away from Las Vegas, and the North Rim is a bit farther. We suggest doing both rims if you can. Both offer different views and unique perspectives, and are worthy of stopping and spending at least a day or two there.
If you are really adventurous and have the time, the one place you have to visit near the South Rim is Havasupai Falls. This place has been called the "Hawaii of the Grand Canyon" because essentially it is a desert oasis of turquoise waterfalls and rivers, set against the red rocks of the Grand Canyon. The trek requires a 10 mile moderate to strenuous hike to the falls (making that 20 miles round trip), a permit, and at least one night camping at the Havasupai campground or staying at the lodge. If you decide to do this excursion, we suggest making it two nights, so you can spend a day hiking in, a day relaxing at the pools and waterfalls, and then a day hiking back out. Read more about what this trek requires and how to secure a permit through the Havasupai Tribe.
We suggest getting off the main tourist path and hitting a few trails to really be able to take in the grandeur of the Grand Canyon and to see it from different perspectives. There are lots of great day hikes, from a short half day hike to a full day hike. We recommend the Bright Angel and South Kaibob trails that can be found both on the South Rim and North Rim.
Depending on what kind of accommodations you are looking for, there are great Wyndham Rewards hotels near the Grand Canyon without breaking the bank.
Day 5: Antelope Canyon, Horseshoe Bend, Lake Powell
Not too far from the North Rim of the Grand Canyon are some must-see stops such as Antelope Canyon and Horseshoe Bend which is part of Lake Powell. Spend a half day kayaking on Lake Powell (we suggest Lower Antelope Canyon near Paige, Arizona), which is a great way to experience the magic of this incredible man-made lake. You can either rent kayaks and go on your own, or take a tour through Kayak Lake Powell.
While you're in Paige, Arizona, make sure to do a tour of Lower Antelope Canyon, which is set on an Indian reservation (tours required). Antelope Canyon is probably the most photographed slot canyon in the world, and for good reason–it's absolutely breathtaking. Many people suggest going in the middle of the day when the light shines directly down into the canyon creating those famous light beams you see photos of, but depending on the time of year (if it's busy season), we recommend taking one of the first or last tours of the day to avoid most of the tourists and lines.
For a sunset you will never forget, drive to Horseshoe Bend (also near Paige), which is a short 3/4 mile hike out to the edge of a canyon overlooking the Colorado River. It is one of our favorite views of the Grand Canyon because you feel like you're "in" the canyon. Photos don't do this place justice. You have to see it for yourself!
We stayed at the Day's Inn in Paige, Arizona and it was the perfect spot to explore Lake Powell, Antelope Canyon and even the North Rim of the Grand Canyon from there too!
Day 6: Monument Valley
From Paige, Arizona, take a 2 hour drive to Monument Valley which borders Arizona and Utah. You could spend more than a day here, but there are definitely some highlights you don't want to miss. Options include taking a safari tour through the park with a Navajo guide, where you will learn all about the history of the people on this land, see the oldest Anasazi ruins, and spot petroglyphs and pictographs. You could take a sunrise or sunset Monument Valley tour, which takes you to all the best landmarks and spots for photos. There are also lots of great hikes in Monument Valley. We loved the Wildcat Trail which is just a little over 3 miles round trip.
If you are short on time and just want to drive through the park, you can take the Valley Loop which is about 17 miles and offers some awesome vistas from the road.
Day 7-8: Zion National Park
There are so many incredible National Parks to explore in Southern Utah to include Zion, Bryce Canyon, Arches, Capitol Reef and Canyonlands. Unfortunately you probably need a solid two weeks to really experience them all, so for this road trip itinerary we are just including two of our favorite Utah National Parks, Zion National Park and Bryce Canyon National Park.
From Monument Valley, Zion National Park is about a 4 hour drive. You can stay in the towns of Springdale or even Kanab, which are just outside the park and offer more economical lodging choices than staying in the park. Our pick is the Days Inn in Kanab because it is super affordable and clean. Plus, Kanab is a great little town with fun shops and good eats!
There are so many great hikes in Zion National Park, but the ones not to miss (and some of our all-time favorite hikes) are the Narrows, Observation Point, and Angel's Landing. The Narrows requires wading through water in the Virgin River, so we wouldn't recommend this hike during the colder months. Most people hike the Narrows from the bottom up and go up a few miles and then turn around and come back. You can also hike the trail from the top down, but that requires a permit months ahead and backpacking into camp at one of the campsites within the Narrows. Read some great tips on hiking the Narrows.
Angel's Landing is not just any hike, it is a rite of passage. If you have a strong fear of heights, this trail might not be for you! Angel's Landing is a steep, 5 mile round trip hike (climbing over 1,500 feet in elevation), with the last 1/2 mile or so requiring you to hold onto chains as you ascend the spine of a cliff to the top. The cliffs drop over 2,000 feet, so don't look down! This hike also offers epic views. in addition to a thrilling experience. We wouldn't recommend taking kids under 6-7 years of age on this hike, and we would also recommend starting early in the day to avoid the heat (during the summer months), as lots of people are usually on this trail.
Day 9-10: Bryce Canyon National Park, Salt Lake City
From Zion, drive to Bryce Canyon National Park which is approximately 100 miles away or about 2 hours away. Bryce is another jaw-dropping national park with so many great trails and things to do. We have a post on Bryce Canyon that covers hikes and other must-do activities. If you only spend 1-2 days there, we would definitely suggest hiking the Navajo-Queens Garden loop and doing a Rim Trail hike at sunrise.
After a day or two in Bryce, make your way to Salt Lake City, which is about a 5 hour drive from Bryce. This will conclude your epic Southwest road trip.
---
Cruise the California Coast
If you haven't driven the California coast yet, this road trip has to be on your list. California has some of the most diverse landscapes of any state in the U.S. From the redwood forests in the north to the snow-capped peaks of the Sierra Mountains, to miles of beautiful coastline and beaches, this is one road trip that will leave you itching to return.
Day 1: San Francisco
Start your trip in San Francisco and spend a day in the city by the Bay. One of our favorite things to do in the city, is bike across the Golden Gate, starting at Fisherman's Wharf. For a more "outdoorsy" biking adventure, head across the bay to Tiburon and rent bikes and take the ferry to Angel Island, nick named "Ellis Island of the West". Angel Island offers the best 360 views of the bay, including San Francisco and the Golden Gate bridge. It's only a 5 mile loop around the whole island. Bring a picnic lunch, so much fun for the whole family!
For a fun place to stay in the heart of San Francisco, check out the Wyndham Canterbury. It's pretty spectacular!
Day 2-4: The Redwoods
After spending a day in the city, head north via Highway 101 towards the redwoods. From San Francisco, it's about a 5-6 hour drive without stopping, so if you plan to stop along the way, schedule extra time to get there. If you're going to stop though, Point Reyes would be a good place.
Redwood National Park is like nothing you've ever seen. To walk among the tallest trees in the world is simply an experience you will never forget. These trees get to be over 300 feet tall and can be over 2,000 years old!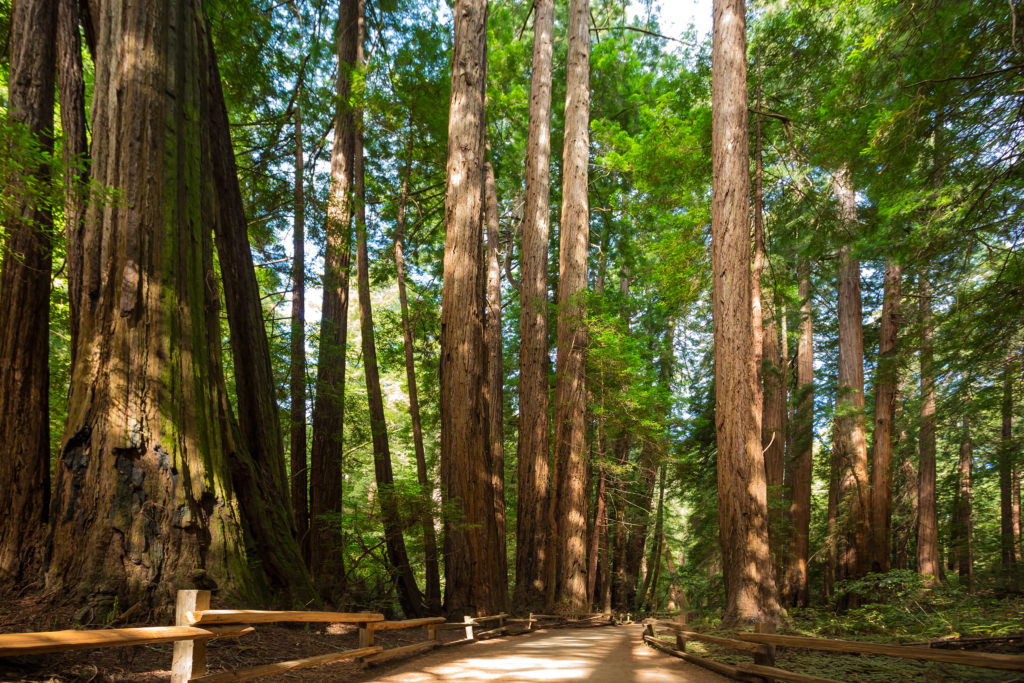 There are so many things to do in this park, such as a hike up Fern Canyon or a trip to the coast to go whale watching. Gold Bluffs Beach has some of the best coastal views. Some popular trails in the Redwoods are the Lady Bird Johnson Grove loop and the James Irvine trail. You can even drive through a Redwood tree! We love this two-day itinerary in the Redwoods.
Stay at one of these Wyndham Rewards hotels near the Redwoods.
Day 5-7: Monterey and Big Sur
There will be a full day of driving, since the drive from Redwood National Park to Monterey takes about 7 hours via Highway 101. From visiting the famous Monterey Bay Aquarium, to spotting marine life along the trails of Point Lobos in Carmel, to kayaking in Monterey Bay, you could spend a full week here. We also recommend driving along 17 Mile Drive which is the stretch of road between Monterey and Carmel. It is absolutely BREAHTAKING. Along this drive, you will pass million dollar homes and golf courses, beautiful coastline and groves of Cypress trees. Read Wanderlust Crew's Guide to Monterey for more kid-friendly ideas in Monterey.
There are plenty of places to stay around Monterey, and surprisingly some affordable options too.
Further south of Monterey is Big Sur via Highway 1 and probably one of the most spectacular sections of the coastline in all of California. Drive over the Bixby Bridge, take a hike through Julia Pfeiffer Burns State Park or play at the beach. Keep in mind that there were some recent road closures as of 2017, so make sure to read Visit California's guide to how to visit Big Sur during road closures.
Day 8-10: Los Angeles to San Diego
From Big Sur to Los Angeles, it's only a few hours, but don't rush this stretch of road because it is meant to be enjoyed. There are so many cute towns to stop at along the way including Pismo Beach and Solvang. At Pismo Beach, make sure to go to the sand dunes and do a little sand boarding or rent a dune buggy!
Once you've made your way to Southern California, now it's time to hit the beaches! You can't go to a beach here without boogie boarding or surfing on the beaches. In the LA area, check out Newport and Huntington Beaches, Laguna Beach, Crystal Cove and just north of LA, the beautiful El Matador Beach. Located about 10 miles northwest of Malibu, El Matador beach has rocky shores, robust waves and some of the clearest water in L.A.
Further south in the San Diego area are some of our favorites: La Jolla Caves, Torrey Pines, and Sunset Cliffs. Both La Jolla Caves and Sunset Cliffs require short hikes down to. You can also go kayaking at La Jolla Caves to get a different experience of these remarkable caves. And of course, a trip to San Diego wouldn't be complete without going to Coronado Island. Check out other great beaches in the San Diego area.
Ending the road trip at the beach isn't a bad idea when you are rewarded with beaches like this! If you're looking for accommodations, check out these great lodging options close to the beach through Wyndham Rewards in San Diego.
---
The Heart of the Rocky Mountains
The heart of America is its National Parks, and this road trip takes you through some of the best ones. If you're a mountain lover, this trip will be a dream come true. For most people, starting this trip in Salt Lake City probably makes the most sense logistically since it's the closest metro city. From Salt Lake City, it's about a 5 hour drive northeast to the Grand Tetons.
Day 1-3: Grand Teton National Park
You will know you've arrived in the Grand Teton National Park once you see those distinctive jagged peaks that jut into the sky and the wooden fences and barns that dot the valley, welcoming you to the "Wild West". The Teton mountain range beckons you to explore it's vast trails, lakes and rivers so if you're an outdoors fan, you will fall in love with this park.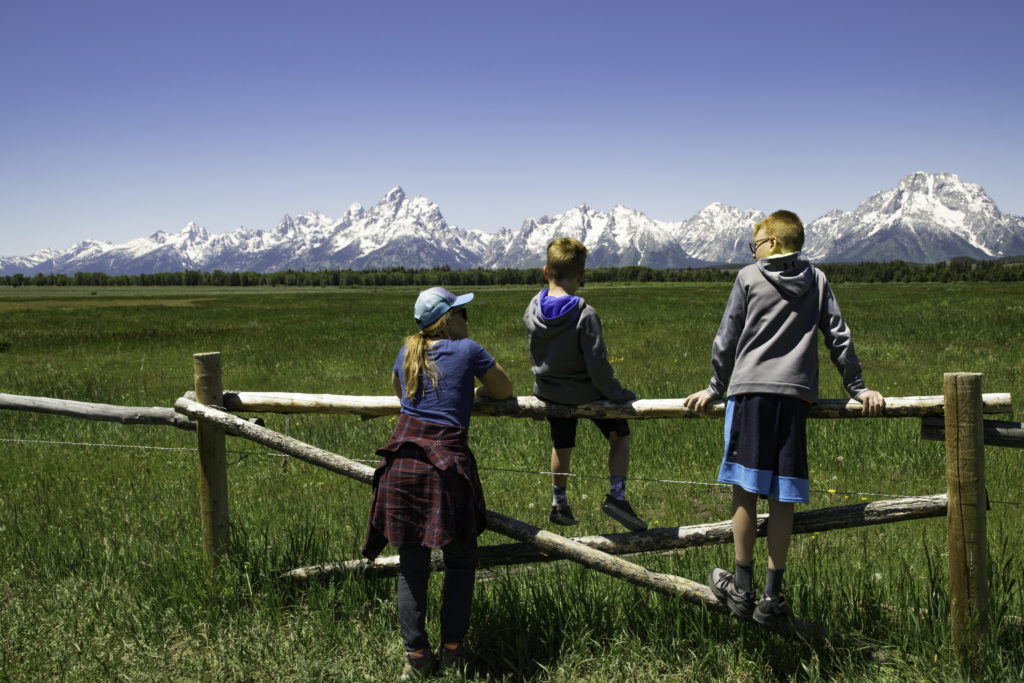 The Tetons have some of the best wildlife in all the West. Here you can easily spot moose, bear, elk, bison, wolves, bald eagles, the list goes on. There is so much to do in the Tetons, but our favorite activities include hiking, fishing, kayaking or canoeing, and horseback riding. Spend a couple of days choosing a couple of activities and don't skip the 42-Mile Scenic Loop drive through the park!
Rent a canoe or kayak and head to Jenny Lake and paddle right below the majestic Tetons. You can even paddle across the lake, tie up your boat, and hit one of the many hiking trails around Jenny Lake such as String Lake, Inspiration Point, or Hidden Falls. Many of these trails you can access from the Jenny Lake trail head via the shuttle boat.
Other great day hikes in the Tetons include Taggart Lake, Phelps Lake, and Cascade Canyon. Check out all the hiking trails in the Tetons to see distance, difficulty rating, etc.
The Tetons are known for their rivers and creeks, so you can't come here without fly fishing! There are so many great spots to fish along the Snake River, but going with a fly fishing guide in the Tetons will definitely ensure that you catch something!
Our last tip for visiting the Tetons is to make sure to witness a sunrise and a sunset. Our favorite place to watch the sun rise is the Snake River Overlook, but Schwabacher's Landing and Oxbow Bend of the Snake River are also just as incredible. The other benefit of getting up that early is you're more likely to spot wildlife at those spots too. We loved watching the sun set at the Moulton Barn on Mormon Bend.
The great thing about the Tetons is you're close to Jackson Hole, so if you want to be near the restaurants and shops, but also close to the park, this is a good place to stay. Because Jackson is a touristy ski town, it can be quite pricey to find affordable accommodations, but this Wyndham Reward hotel in Jackson Hole offers affordable prices in a convenient location.
Day 4-6: Yellowstone National Park
Continuing north on this road trip is Yellowstone National Park, which is only about an hour or two from the Grand Tetons. From the Tetons, you would enter in through the South entrance. If you haven't been to Yellowstone yet, be prepared to see places and things you will probably never see anywhere else on Earth. Here you will marvel at a volcano's hidden power rising up in colorful hot springs, mudpots, and geysers. Yellowstone also covers mountains, forests, waterfalls and lakes and has some of the most spectacular display of wildlife of any National Park.
You can't come to Yellowstone without stopping and seeing the many geysers, hot springs and mudpots. Old Faithful is probably the most famous geyser in the park. It erupts every 60-110 minutes lasting about 1-5 minutes each eruption, and reaching heights of around 140 feet tall. You can watch it from the boardwalk where most tourists observe it, or you can watch it from the Old Faithful Inn on the viewing deck!
Not far from Old Faithful is the Grand Prismatic Springs. These amazing hot springs are the largest hot springs in the country and the third largest in the world. You can walk on the boardwalk right next to it, but we suggest taking the Fairy Falls trail for a short hike up to see it from a bird's eye view!
Probably our favorite area of Yellowstone is the section called the Grand Canyon (not to be confused with the Grand Canyon in Arizona). This canyon in Yellowstone offers endless trails, rivers and waterfalls and in our opinion, the most stunning views in all of Yellowstone. The best trail to experience the Grand Canyon is the Canyon Rim North trail to Inspiration Point. There are also lots of other great day hikes in Yellowstone.
Lastly, make sure to stop at Mammoth Hot Springs which is near the north entrance of Yellowstone. Mammoth Hot Springs are a must-see feature of Yellowstone because it's so different from other thermal areas in the park. It is truly out of this world!
West Yellowstone has the most options for lodging. Use your Wyndham Rewards points to stay at the World Mark West Yellowstone, it's pretty amazing!
Day 7-10: Glacier National Park
After a few days in Yellowstone, drive about 6 hours northwest to Glacier National Park. Just when you thought the scenery couldn't get any better after spending several days in the Tetons and Yellowstone, you will arrive at Glacier National Park, the crown jewel of North America. In Glacier, the mountains get bigger and the views more impressive. Get used to picking up your jaw off the ground here, Glacier will blow your socks right off!
We suggest spending a couple of days in West Glacier and then a couple of days in East Glacier. Not far from West Glacier are the towns of Kalispell or Whitefish which offer the best deals on lodging in the Glacier area.
In the West Glacier side, don't miss Avalanche Lake and Avalanche Gorge (Trail of the Cedars) trail, a short yet beautiful hike that leads to an amazing lake and creek.
Lake McDonald is a stunning lake to swim in, paddle board or kayak on and you can rent equipment at Apgar Rentals. Driving one of the most scenic roads in country, Going-to-the-Sun Road should definitely be on your list while you're in Glacier. We suggest starting early in the morning before the buses and traffic start, and you just might witness a spectacular sunrise. Make sure to stop at Logan Pass to spot mountain goats and even bears. There are some great trails around Logan Pass as well, including Hidden Lake and the Highline Loop trail which is one of the most popular and scenic hikes in the park.
After spending a couple of days in West Glacier, head to East Glacier via Going-to-the-Sun Road. We recommend going to the Many Glacier region in East Glacier because most of the best hikes and trails are in that area.
The trail not to miss in Many Glacier is the Grinnell Glacier trail. The shorter option is to take the shuttle boat across Swiftcurrent Lake to the trail head. This cuts off about 2 miles (especially wise if you're going with kids!). The entire trail is about 8 miles round trip (taking the shuttle). It is by far one of the most breathtaking hikes we've ever done. There is some elevation gain (approx 1800 feet), but if you take your time on the ascent stopping to rest and enjoy the views, it's worth the whole day adventure.
Other note-worthy hikes in the East Glacier area worth doing if you have time are Iceberg Lake and Cracker Lake. Ending your trip in Glacier is the perfect cap to an amazing road trip through the Rocky Mountains!
---
A Taste of the Southeast
Our last All-American road trip takes us through the beautiful Southeastern region of the U.S. With the help of our friends at Simply Beautiful Life, we have created a memorable road trip through some of the most scenic places in the South!
Day 1-3: Atlanta and beyond
Starting in Atlanta, Georgia spend a few days getting a taste of some of the best outdoor adventures you can find outside this major metro area. Spend part of a day biking the Silver Comet Trail, which is just 13 miles northeast of Atlanta and runs 61 miles long.
Luckily there are so many economical places to stay in Atlanta. Wyndham Rewards has you covered no matter your budget.
Outside Atlanta is the beautiful, ancient Chattahoochee River, where you can go fly fishing while enjoying the peaceful nature around you. This river is also well-known for tubing, or as the locals call it "shooting the hooch". Companies such as Chattahoochee Outfitters offer trips ranging from 3 to 6.5 miles, with shuttle service to return rafters to their cars after the trek is over. It's an excellent way to laze away a summer afternoon.
North Georgia is renowned for its amazing waterfalls, but this lesser-known recreation area located in the Tallulah Basin features one of the best, accessible trails through a forest filled with 100-foot-tall trees and moss-covered rock cliffs. Panther Creek drops nearly 1,000 feet from Stony Mountain on its way towards the Tugaloo River, with a series of cascades leading to two impressive waterfalls. The hike is long (around 6 miles) and somewhat challenging, but the dramatic view at the bottom is well worth the effort.
Lastly, if you're really up for an adventure, you can go whitewater rafting on the Chattooga River. For families, there's Section III, a beginner-friendly float trip with a Class IV ending at Bull's Sluice. And for more adrenaline junkies, there's even Section IV and V rapids on this river, rushing you down the river at a breakneck pace and topping it off with an invigorating plunge down the legendary Five Falls and Soc-em-Dog. Going with a tour outfitter such as Southeastern Expeditions will ensure maximum safety and enjoyment of your trek.
Day 4-5: Jekyll Island, GA
From Atlanta, make your way to Jekyll Island, about a 4-5 hour drive southeast towards the coast. Situated within the chain of the Golden Isles, Jekyll Island is just a few miles from St. Simons Island, Sea Island and Brunswick. It is a coastal haven and a state treasure filled with beautiful nature, history and fun. Here you can spend a day relaxing at the many beaches along the 10 mile stretch of shoreline on Jekyll Island (Driftwood Beach is a popular beach).
Kayaking and paddle boarding are other popular activities on Jekyll Island and you can go on a guided tour with one of the many outfitters around Jekyll Island. The island's interior boasts well-preserved maritime forests full of deer, raccoons, nesting birds, butterflies and an occasional alligator. Bird watchers will love spotting birds of all kinds on the two-story observation deck that overlooks the marshland at St. Andrews Beach.
You can't come to Jekyll Island without biking one of the many bike trails. Miles of trails dot the island with a broad range of scenery from marshland, to beaches, to forests of Spanish moss and oak trees. Check out the complete trail system on the island and you can also rent bikes at Jekyll Island Bike Rentals.
Lastly, don't forget to visit the Georgia Sea Turtle Center, Georgia's only sea turtle education and rehabilitation facility. At the Center, learn about sea turtles and see rehabilitation in action with a host of interactive exhibits and experiences.
Stay at one of many Wyndham Rewards hotels on Jekyll Island to be near the action.
Day 6-7: Charleston, SC
From Jekyll Island, make your way to one of the most charming towns in all of America, Charleston, South Carolina. It's only about a 3 hour drive. If you're a history buff, or love Southern architecture, food, and shopping, you will especially love Charleston. Fortunately there are also plenty of outdoor activities in the area too.
Consider staying at The Mills House Wyndham Grand Hotel in Charleston. It is Southern charm at its finest and right in the center of town. There are also lots of other affordable accommodations through Wyndham Rewards in Charleston.
Kayaking might be the #1 outdoor activity to do while in Charleston. So many neat areas to kayak or paddle to including Shem Creek, Bulls Island, and Isle of Palm. More than likely you will spot dolphins, sea turtles and perhaps even manatees! Check out Coastal Expeditions or Charleston Outdoor Adventures for half and full-day tours. You can also just rent equipment and go on your own.
Other water activities to consider near Charleston are paddle boarding around Isle of Palm, kite surfing on Sullivan's Island, or surf and boogie board at Folly Beach. There are lots of great beaches in Charleston, so you could easily spend a day just playing in the surf and sand.
Surprisingly, Charleston has some great hiking trails too. The Awendaw Passage of the Palmetto trail, named the northernmost "tropical" trail in the U.S. is a 7 mile trail passing through maritime forests of pine and palmetto. If you want to hike through an old swamp forest where you are likely to see alligators, hike the I'on Swamp trail, which is a short 2 mile trail. Check out other Charleston hiking trails.
Day 8-10: Brevard and Asheville, NC
From Charleston, drive about 4 hours inland northwest to the beautiful Appalachian mountains of North Carolina and the quaint towns of Brevard and Asheville. With over 400 miles of trails available for hiking, there is a seemingly endless supply of great hikes in Transylvania County. There are so many hidden gems near Brevard and Asheville such as lush swimming holes, natural rock slides and endless waterfalls and forests.
You could easily spend a whole week in Brevard and Asheville hiking, swimming, chasing waterfalls, and biking. It is truly an outdoor lovers paradise. We've chosen to highlight a couple of areas in the area not to miss, thanks to the help of our friends Simply Beautiful Life. For hiking trails, Pisgah National Forest has some great hikes to include Coontree Loop, Looking Glass Rock trail, and for killer views, make sure to hit up John Rock trail. For more hiking trail ideas with directions, check out the Brevard Hiking Guide.
Around Brevard in the DuPont State Forest, hike to five gorgeous waterfalls on a 5 mile ultra-scenic trail called the Waterfall trail located on the Little River. High Falls, the park's tallest waterfall, has views of the wooden covered bridge just above the waterfall. The trail follows the Little River downstream, dropping elevation to visit the gorgeous three-tiered waterfall at Triple Falls. And departing Triple Falls, the trail goes to Hooker Falls, a wide, symmetrical waterfall that drops into a deep pool that's one of Brevard's most popular summertime swimming holes.
Who doesn't love a good natural rock slide? You will find an awesome rock slide just outside of Asheville, called Sliding Rock. The perfect way to cool off on a hot summer day! Check out all the best rock slides and swimming holes near Asheville.
This area of North Carolina is well-known for its rock climbing, and there are some awesome climbing routes in the mountains near Asheville and Brevard. If you are new to rock climbing and don't have your own equipment, go with the guides at Pura Vida Adventures. They offer tours for beginners and families with children as well as tours for more skilled climbers.
Biking (road and mountain) is a popular outdoor activity in Brevard, home to the best cycling routes in North Carolina. Check out these great trails and routes near Brevard.
When you're not hiking, exploring the many waterfalls and swimming holes, biking or rock climbing, you can find plenty to do and see in the towns of Brevard and Asheville. Also, we suggest staying in Asheville, where you are bound to find great prices for staying at one of many Wyndham Rewards hotels in Asheville.
After an amazing 10 days through some of the most beautiful landscapes in the Southeast, that concludes our Southeast road trip!
Comments
comments