Want to get your kids out in nature and on the trails more but not sure how to do it? After years of trial and error and figuring out what works best (with five kids!), I've got some great and helpful tips to make hiking easier and more enjoyable for kids of ALL ages, and yes, even for YOU too!
*This post contains affiliate links, which means we receive a small compensation if you make a purchase clicking the links.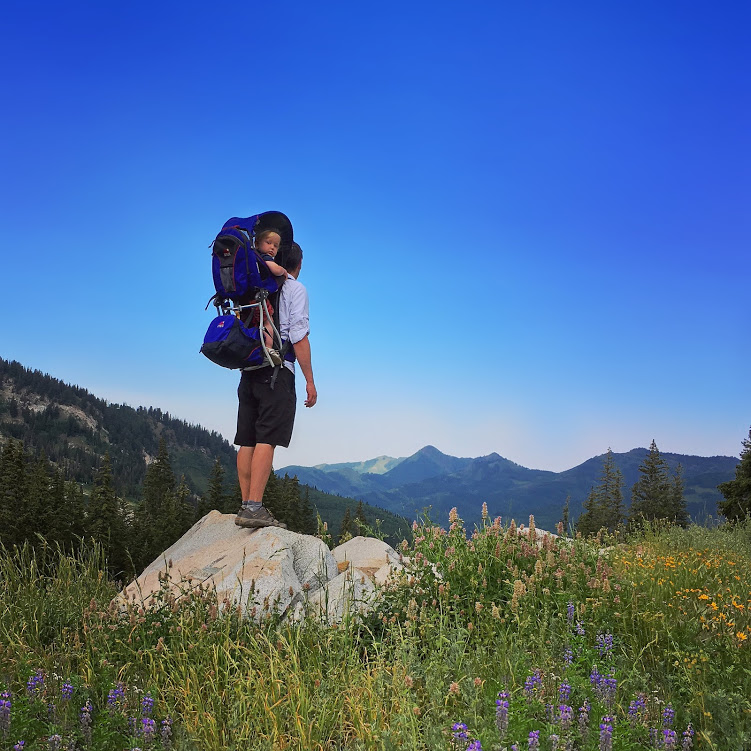 First though, let's lay it all on the table.
Hiking with children can be A LOT of work. It's so much hard work, that at times it feels like it's not worth it (just keeping it real here!). Honestly, when we plan a hike I often get a little "mom anxiety" for 2-3 days leading up to our hike and that anxiety only goes away slowly with each step on the trail. Hiking with kids is what I like to call "serious fun" which is when you combine blood, sweat, and tears along with fun, to create a memorable and growing experience. It takes focus, patience, preparation, some tricks up your sleeve, and plenty of songs in your pocket.
BUT…once I reach the top of a trail with my family (and of course, some glorious moments along the way), Mother Earth shows us all her wonders as we breathlessly take it all in. The views and the peace and quiet make all the hard effort worth it. And the best part, hiking teaches so many life lessons!! The feeling of reaching the peak of the trail can be translated into our life's journey–finally tasting the sweet reward at the end of a hard struggle. My greatest parenting goal in life it to teach my kids that work, sweat and struggle are good for them because they will appreciate the outcome or the "summit" even more. Starting kids hiking young is a great way to build their endurance and love for the outdoors, but you can start at any age.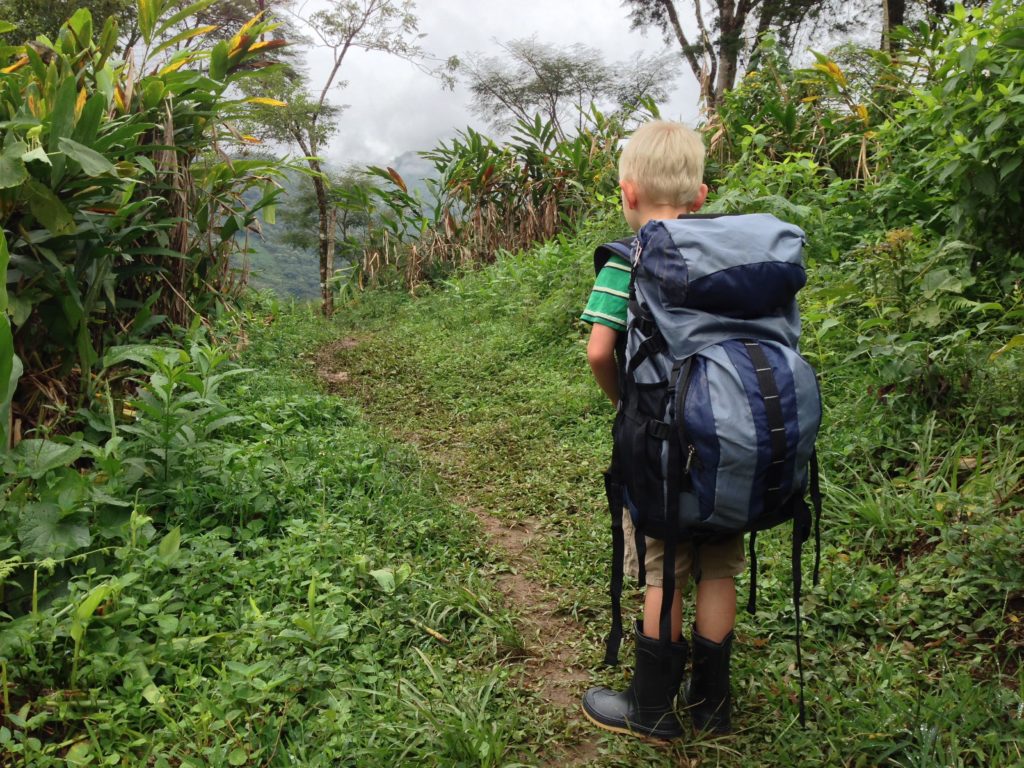 So don't sweat it before you even start hiking, use these 17 tips to keep the mom's (or dad's) anxiety to a minimum when planning a hike and MAXIMIZE the joy of being in nature together. And get ready for the euphoria you will experience when you all reach the peak, it is so worth it!
Preparation and What to Pack
1. Make safety a priority
Choose a "spotter" (friend, family member, neighbor) that knows when you are leaving and which trail you are doing. As an extra precaution, take a photo of yourself and your kiddos before leaving for the hike if possible and send to your spotter, so that in the case of an emergency, workers know who they are looking for.
2. Always carry a first aid kit and fire starter kit
Make sure to always pack Band-Aids, anti-itch cream, Ibuprophen, emergency flare or whistle for each person, a pocket knife, flint or waterproof matches. We love this great Coleman travel size first aid kit.
Or you can make your own portable first aid kit.
3. Bring plenty of water
Along with water, always bring a method to filter water such as Life Straw (you drink straight out of the water source with this special straw) or this Sawyer mini water filtration system, just in case you run out. We are also big fans of these Geigerrig hydration backpacks because you can carry more water and it's easier for kids to carry their own water and have quick access to it. Make sure to bring good headlamps or a flashlight and batteries, and a good sunscreen with zinc-oxide is a definite must. Also, keep extra water in the car for when you return or to share with another hiker who is in need.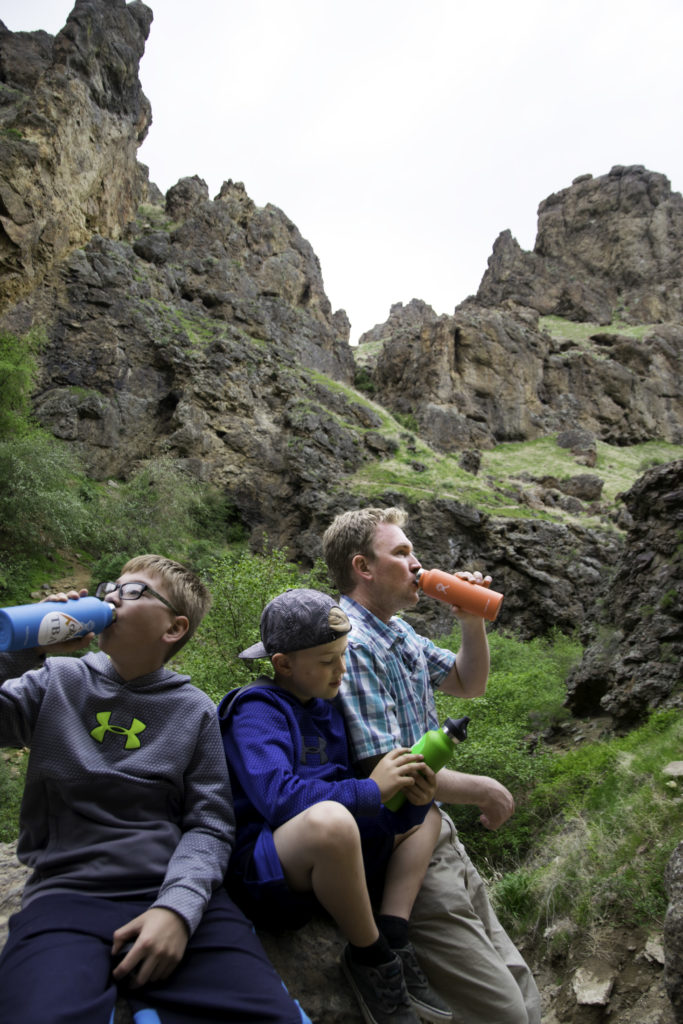 4. Take a map of the area and a compass
It's a good idea to grab a trail map if offered at the trail head. On the trail take the opportunity to teach the kids how to use the map and compass. You can even have fun with these compass games before the hike to learn about the compass and how to work it. These are also some good ideas on games for a map or compass.
5. Bring plenty of snacks
We can't emphasize this enough. Bring all the snacks. It's better to be over-prepared than under-prepared when it comes to food and being in the wilderness. Create your own trail mix bar the night before and let each child carry their own baggie of goodies. We also love this easy snack pack for a variety of healthy snacks to take with you on the go (if you don't have time to prepare anything at home!) It's a good idea to pack some high protein energy such as beef jerky and nuts too, and even a few "treats" or comfort food for those meltdown moments with your kids. Suckers or gum are a great treat because they last longer than candy. While you're hiking, it's important to take snack breaks so those little ones can rest their legs and re-fuel!
6. Invest in good shoes.
Good hiking boots or shoes will keep the tears to a minimum (trust us, you don't need extra whining or end up with blisters on your hand!). We recommend these awesome Vasque hiking boots and we also love these Merrell hiking boots for kids because they offer great ankle support (which comes in handy while hiking on uneven terrain!) and they are waterproof (also important when dealing with potential weather or wet and muddy trails). Super comfy, well-made and they will last a long time. (See our Gear for our men's and women's picks.) We also prefer wool socks to cotton socks because not only are they warm, but offer added moisture, wick-free protection.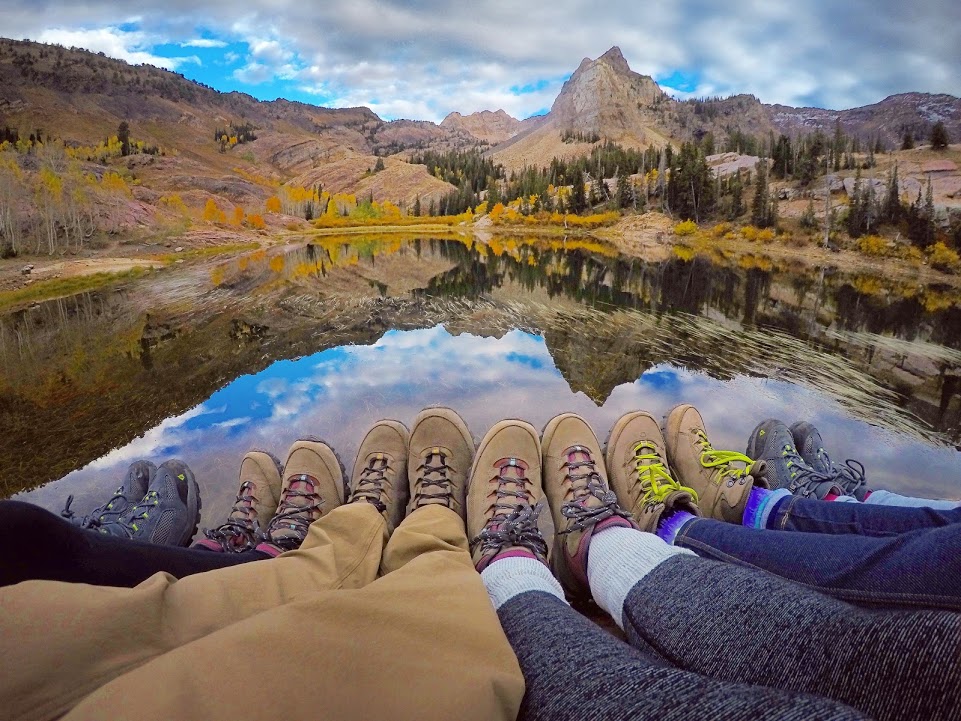 7. Wear layers
Even in the middle of the summer, (especially in the mountains or desert where the weather can change in an instant), it is wise to be prepared with extra layers. We recommend lightweight, breathable short or long-sleeved shirts as a base-layer, and then a rain jacket or lightweight down jacket for added warmth and protection against wind, rain and colder temperatures. (See our Gear for men's and women's options.)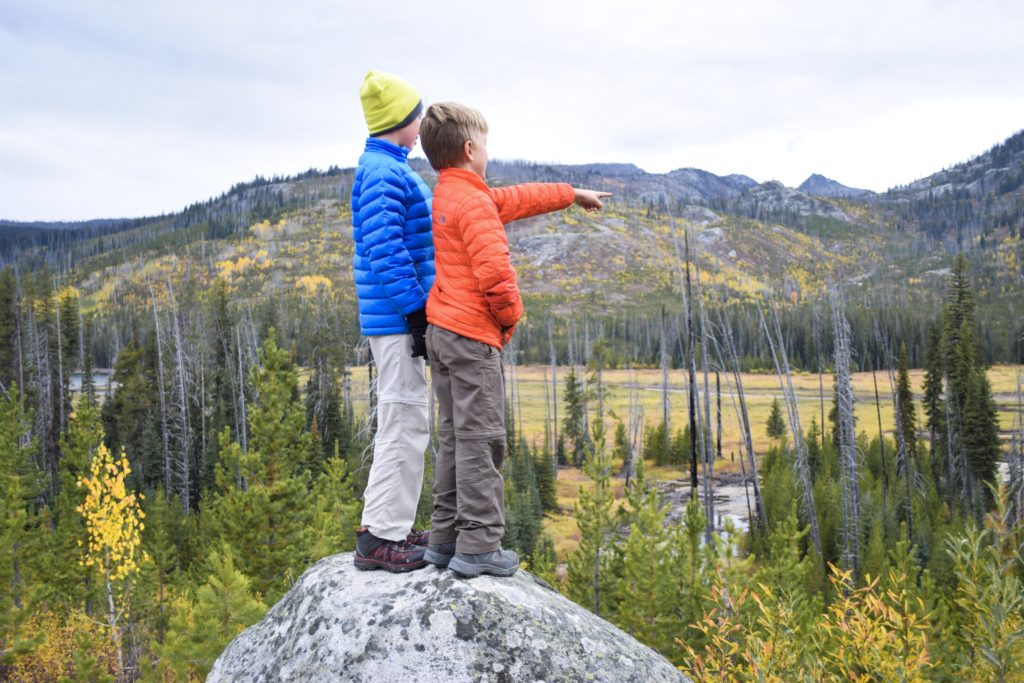 For the Trail
8. Play games on the trail
Kids can get bored hiking for long periods of time, so it's important to make the hike fun. We are fans of playing games on the trail because they keep the kids motivated, but also distracted as to what they are doing–a lot of walking! There are some great trail games that are easy to do and most importantly, they make hiking enjoyable for even the littlest! We have also done nature scavenger hunts which give kids the chance to learn about their surroundings while they are hiking. This sensory scavenger hunt is also great.
If you are hiking in a National Park, make sure to get a free Junior Ranger packet for each kid! This awesome program allows kids to learn about the national park they are visiting, as well as have fun with different games and activities while you are out on the trail! Once the kids complete the packet, make sure to visit the Ranger station so they can become official Junior Rangers (sworn in by a Park Ranger) and get a badge!
And if your family wants to take it to the next level, there are orienteering clubs across the country where you can go off the beaten path on foot, by canoe, by ski, etc and explore trails galore!
9. Take frequent stops
Breaking up a hike by taking rest breaks and allowing the kids to play and explore in nature is one of the most important aspects of hiking with kids. (*Note: When planning a hike and figuring out how long it will take, it's a good idea to double the time you think it will take you because of stops). Taking breaks is a great way to keep kids motivated and focused on just getting to the next "pit stop" instead of the end goal or making it to the top of the trail. In general, kids can go a lot further if the hike is broken up into segments. You can decide if you want to break up the hike in time segments (for example, walk 30 minutes, play for 10-15 minutes), or if you want to choose landmarks ahead (on a map) for your stops.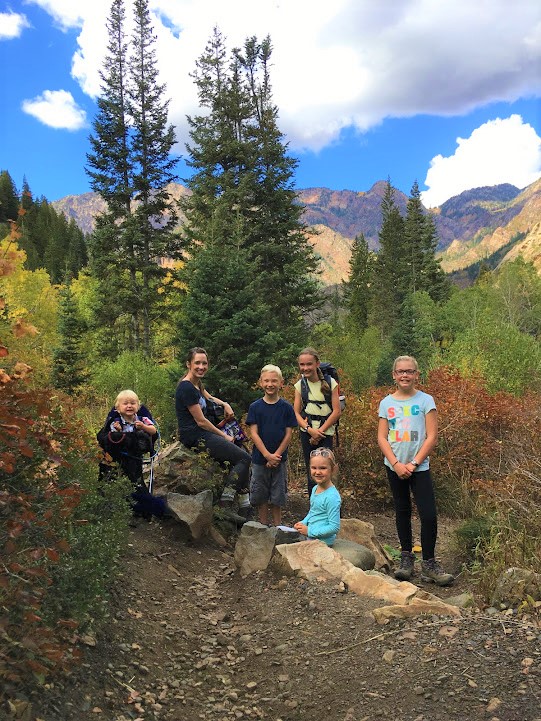 It's also good to let the younger children take a load off by carrying them at times. You can even get the older kids to help with that!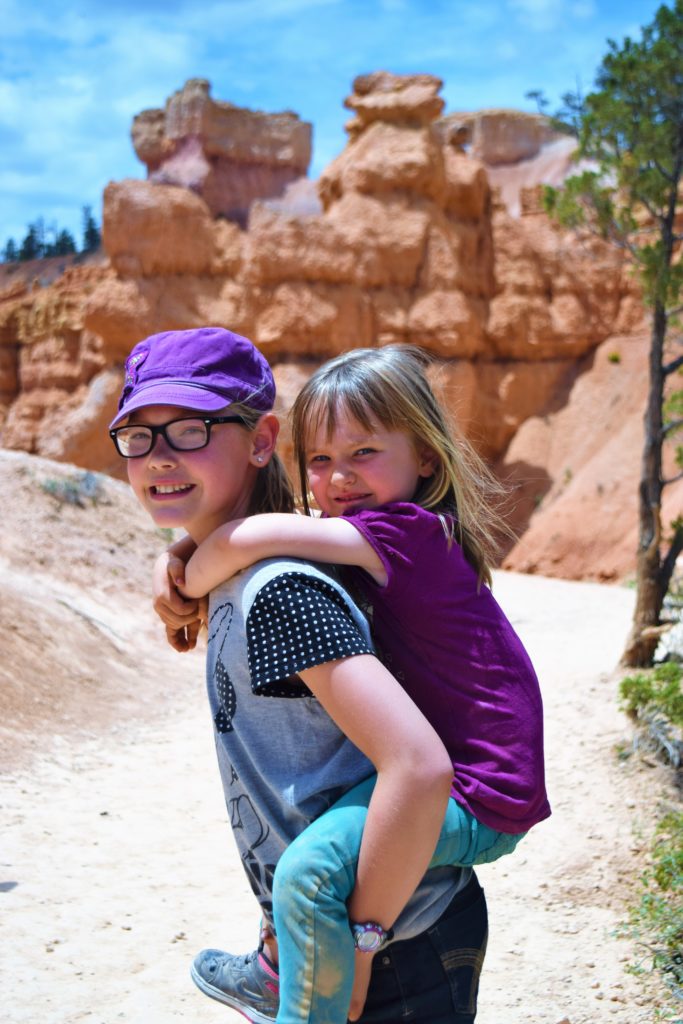 10. It's OK to get dirty
This may seem like a no-brainer (let's be honest, if you mix kids with hiking, they're going to get dirty!), however allowing your kids to actually play in the dirt and mud is so important and therapeutic for them (and good for those sensory parts of the brain!).  So, get over your OCD of trying to keep kids clean outdoors and just let them go for it!
11. Look for wildlife
Kids (and adults) love spotting wildlife while hiking outdoors. One of the best parts of hiking is finding wildlife. It's is a great way to learn about the animals and species they encounter first-hand, so take advantage of these opportunities by asking them questions and teaching them about what they see!
12. Mix it up and go somewhere new
Exploring new places with kids is always a good idea and makes the hiking experience extra special rather than sticking to the normal trails that you are used to. Try going canyoneering sometime (hiking mixed with rappelling and climbing), which is so much fun and an amazing way to explore a slot canyon (just make sure you go with a guide or someone experienced). Or maybe go explore a trail with a lot of waterfalls! Finding new, unique places will make the hike and the memories of doing it together more memorable.
13. Hike in or near water
It's a well known fact that just about every kid loves water. Try finding a hike where they can play or walk in water. Just make sure you have to proper shoes and clothing for that kind of hike! We can't get enough of our kids Keen sandals because they are perfect for water activities (and comfortable for hiking still!), but also have a close-toed sole making them ideal for not stubbing any little toes!
14. Share stories along the trail or sing songs
One of my favorite things about hiking as a family is it is our time to connect with each other without the distractions of home or media (the TV!). We exchange stories, sing songs and usually end up laughing a lot!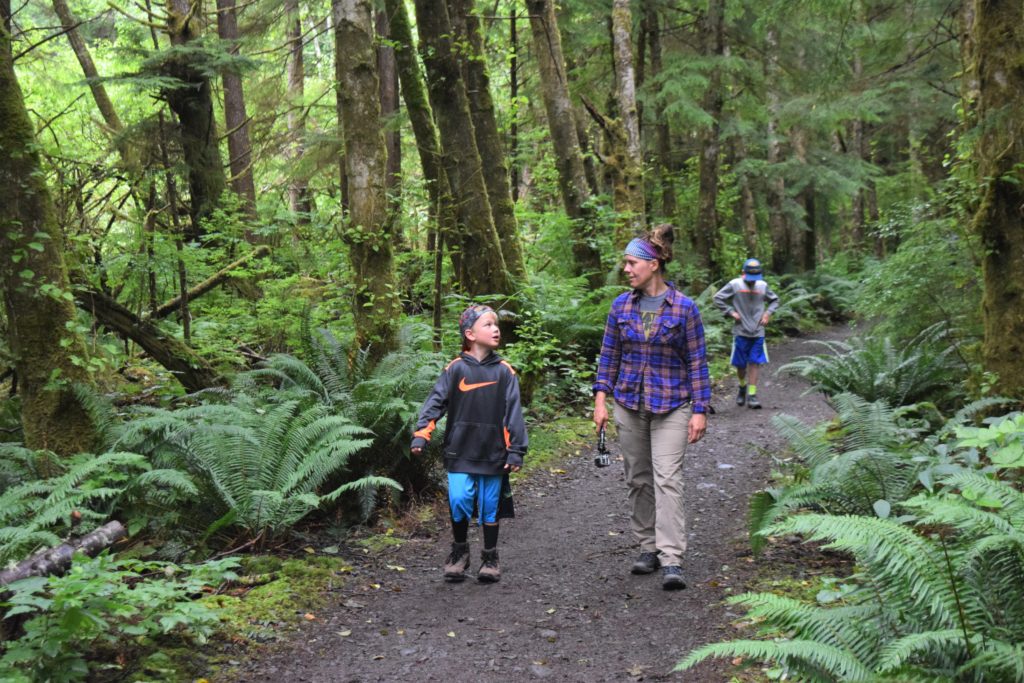 15. Find hiking sticks
Kids love hiking with sticks and they love finding the perfect one all by themselves! Trekking poles are also great, especially for longer hikes and can really make a difference in keeping balance and making the hike easier.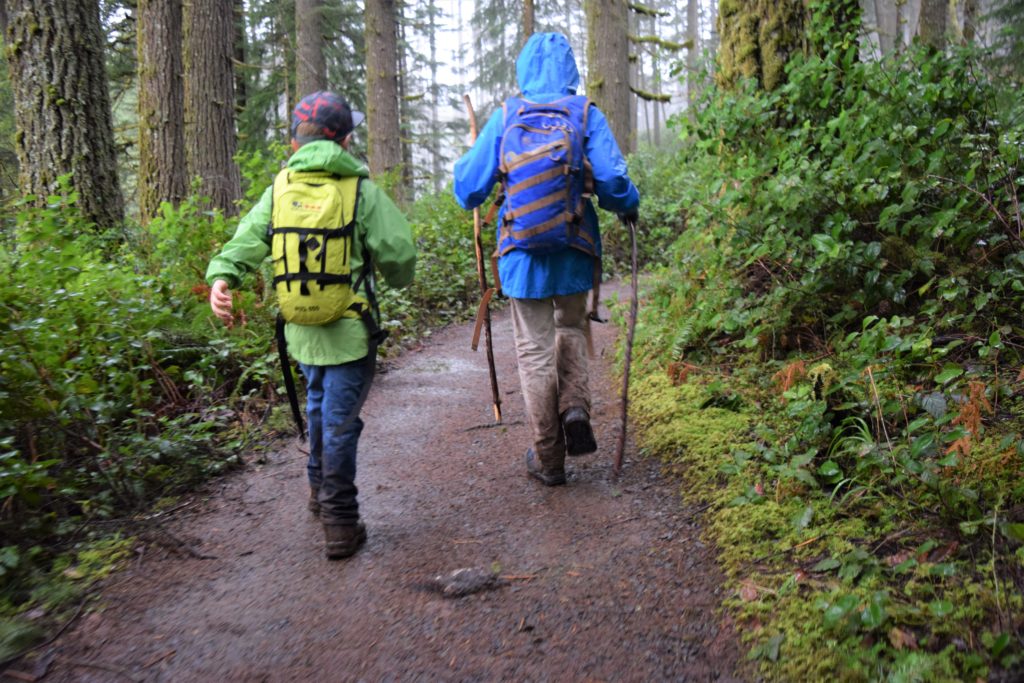 16. Hike with friends
This may be one of our best tips for hiking with kids. Hiking with friends is always more fun if you can plan together ahead, and the bonus is kids will complain a lot less when they are with their friends!
17. Enjoy the view!
Don't get caught up in getting to the final destination to enjoy the view. Remember it's all about the journey! Stop along the way and bask in all that Mother Nature has to offer. Hiking has so many great benefits both physically and psychologically. Read our article on how nature can act as medicine.
So get out in the great outdoors with your kids and see what new magical memories you can create together!
Comments
comments